Gobekli Tepe tour in October 2018 - more info here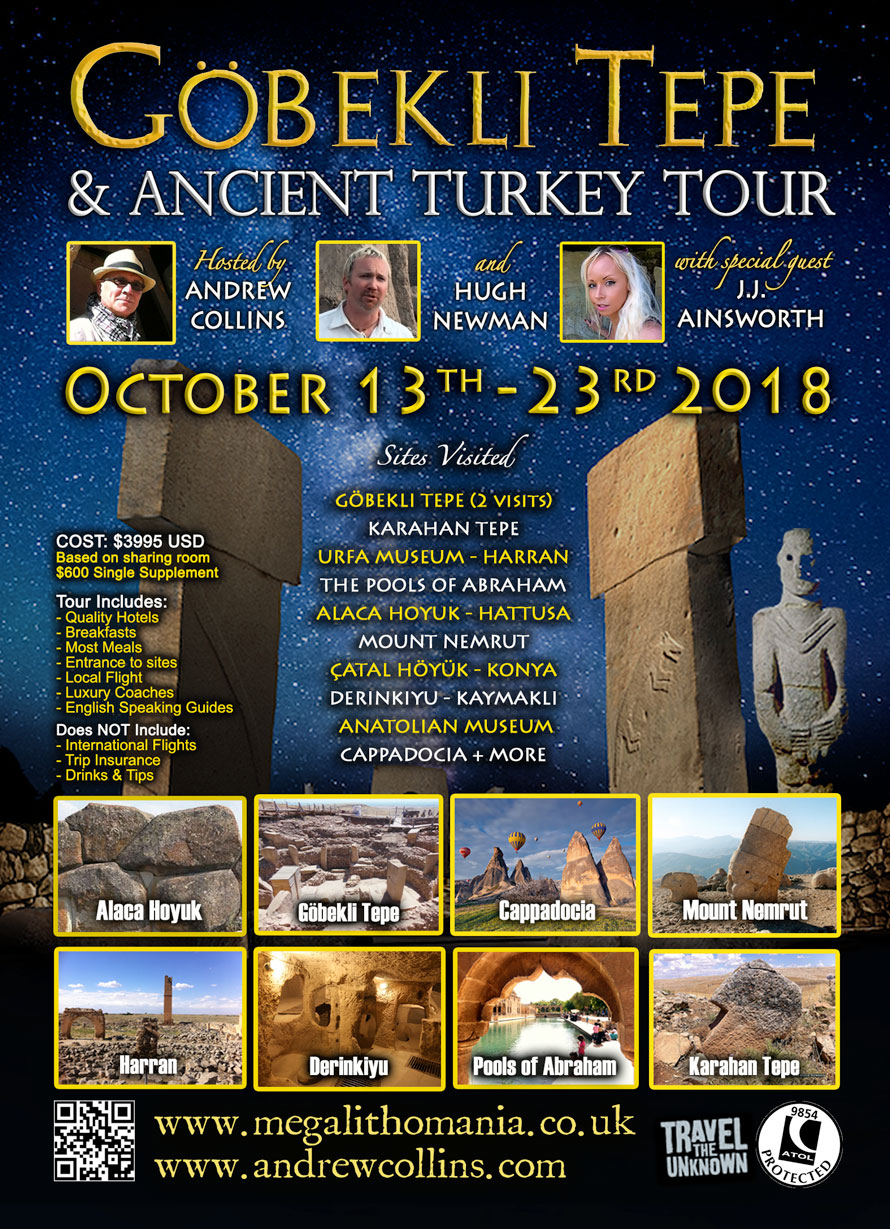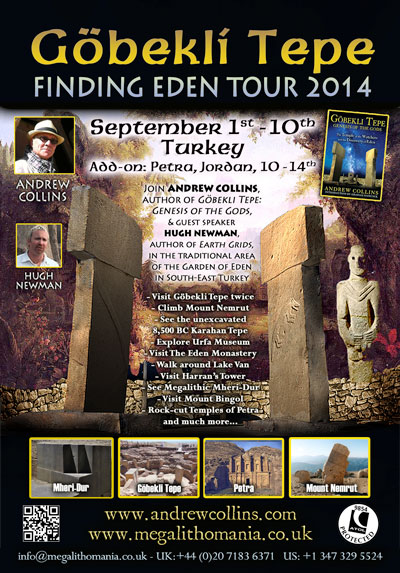 Gobekli Tepe: Finding Eden Tour
September 1st - 10th 2014 (11 days)
+ add-on to Petra, Jordan (5 days)

Hosted by Andrew Collins, author of the forthcoming Gobekli Tepe: Genesis of the Gods, plus The Cygnus Mystery and From the Ashes of Angels, alongside Megalithomaniac Hugh Newman, author of Earth Grids. Plus 4-day add-on to Petra, Jordan.
Join Andrew Collins and Megalithomania on its unique tour of the Cradle of Civilisation and the traditional Garden of Eden. Visit some of the world's most ancient and sacred archaeological sites including Göbekli Tepe, the oldest stone temple complex, and the unexcavated 10,500 year-old Karahan Tepe, that also has T-shaped pillars. We will visit the ancient city of Harran with it's astronomical tower, Explore Sanliurfa, the ancient Christian city of Edessa, birthplace of Abraham; and the traditional area of the Garden of Eden, home of the Watchers and Nephilim of the book of Enoch, and the Annunaki of Sumerian myth and legend. We cross Cendere Bridge, explore the Karakus Tumulus, and Arsemia, and we climb Mount Nemrut for a spectacular sunset. We also visit the Gate of Mehr, a megalithic temple that looks alot like Puma Punku in Bolivia, with its sophisticated stonework. Both Andrew and Hugh will be presenting evening lectures throughout the tour, plus they will be discussing theories and new research on site.


Tour Costs: £2050 for first 5 registrants
Main Tour £2150 UK/ Petra: £875
based on double occupancy
Single occupancy: £370/Add-on £175 - Tour deposit: £500/$800
Please email info@megalithomania.co.uk for more info
Booking Conditions here
Hugh Newman Graham Hancock & Andrew Collins
having a laugh at Gobekli Tepe, September 2013.

Stone totem pole from Gobekli Tepe in Sanliurfa's museum.

Early Neolithic statue "Urfa Man", c. 9000 BC.
Proposed Itinerary: September 2014 - subject to change


Day 1 - Monday September 1st (arrival day):
Fly into Sanliurfa airport. Settle into hotel for evening's orientation and introductory presentation with Andrew Collins and Hugh Newman. NOTE: Flight departs Istanbul Attaturk airport at 16.30.
| | |
| --- | --- |
| The Pools of Abraham, Sanliurfa. | Nimrod's Castle, Sanliurfa. |

Day 2 - Tuesday September 2nd:
After breakfast visit the Sanliurfa Museum of archaeology and culture. Lunch. After lunch visit Nimrod's Castle, the Pools of Abraham and the cave shrine where the great prophet was born. Arranged evening meal. Talk afterward by Andrew Collins about Gobekli Tepe as we prepare for our first visit there tomorrow. B-L
| | |
| --- | --- |
| Gobekli Tepe by Night. | Gobekli Tepe statues and 'Urfa Man' in the middle. |
Day 3 - Wednesday September 3rd:
After breakfast visit Gobekli Tepe, the world's oldest temple complex. Lunch in Sanliurfa. In the afternoon visit Harran, the 8,000 year old city of the Sabians, with links to the Watchers of the book of Enoch. Arranged evening meal. Talk by one of the speakers. B-L-D
| | |
| --- | --- |
| The stunning ruins of the Paradise Mosque, with the mighty Astronomical tower, Harran. | Inside the beautiful beehive markets in Harran, where you can get beautiful hand crafted clothes and gifts. |
| | |
Day 4 - Thursday September 4th
After breakfast visit Gobekli Tepe for a second time, this time without a guide so that you can enjoy the site on a more personal level. Late lunch. After lunch visit Sogmatar, site of the Seven Planetary Temples of the Sabians in the Tektek Mountains (around 80 km east of Sanliurfa). Return to Sanliurfa for overnight. B-L
| | |
| --- | --- |
| Gobekli Tepe: Enclosure D's Vulture Stone (Pillar 43). | Sogmatar's temple of Saturn. |
Day 5 - Friday September 5th
After breakfast depart for Adiyaman. Visit Cendere Bridge, Karakus Timulus and Arsemia. Check into your hotel for a short rest before climbing up to Mt. Nemrut for sunset. Overnight in Mt. Nemrut . B-L-D



Mountaintop mausoluem of Antiochus I on the summit of Nemrut Dag (Mount Nimrod)

Reviews of the 2013 Tour.

Day 6 - Saturday September 6th
After breakfast depart for Çayönü near the town of Ergani / See the site of the early Neolithic complex and visit the nearby cave tombs, tunnels and rock platforms, which some believe date to Neolithic times. Lunch in Ergani area. Then drive to Diyarbakir, and visit its archaeological museum. Overnight in Diyarbakir. B-L
| | |
| --- | --- |
| Foundations and standing stone at Çayönü. | Andrew inside Cayonu's deep cave shaft with sunlight reaching in. |

Day 7 - Sunday September 7th
After breakfast depart for Mus. Visit the ruins of Mus's previously unknown Garden of Eden monastery overlooking the Euphrates river. Journey on to Muska. In the afternoon see Bingöl Mountain, the original Mountain of God, from which flows key sources of three rivers of Paradise. Visit the Fountain of Hizir (al-Khidr), otherwise known as the Waters of Life, near the town of Muska. Here Alexander ended his search for the Fountain of Immortality. Drink from the Waters of Life beneath the shadow of the Mountain of Paradise, and honour the Alevi saint Hizir (al-Khidr). more commonly known under his Arabic name al-Khidr, the Green One, associated with St George and even the Green Man. Stay in area of Mus. B-L
Andrew Collins at Mus's Garden of Eden monastery
overlooking the Euphrates river.

Bingol, the real site of the Mountain of God,
and the birthplace of the Watchers and Anunnaki
Day 8 - Monday September 8th
VAfter breakfast leave Mushka. Journey past the other Nemrut Dag, King Nimrod's burial place, and visit Akdamar Island on Lake Van, where we enter the only active Armenian church in Turkey. Stay night in the city of Van. B-L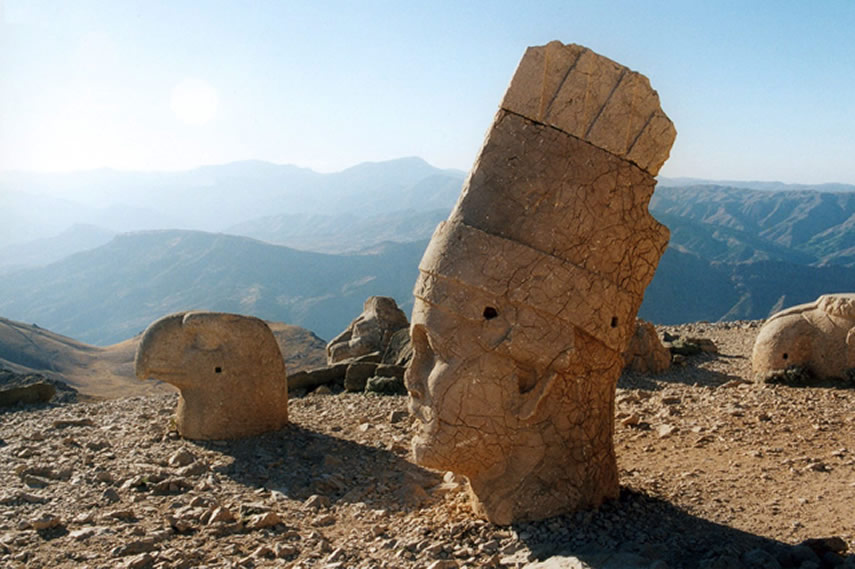 Colossal stone heads on Mount Nemrut.
Day 9 - Tuesday September 9th
After breakfast visit Mheri-Dur, (the "Gate of Mehr"), a huge rock-cut mountain gateway overlooking Lake Van. Carved by the local Urartian civilization, it was said to be the entrance to the otherworld. See its rock-cut inscription, which lists no less than 79 deities from Assyria, Urartu, Persia and even from the Vedic traditions of India. the precision stonework is of the same quality of Puma Punku in Bolivia. Visit Cavustepe and time-permitting Hosap Castle. Return to Van for overnight. B-L
Gate of Mehr (Armenian: Mheri Dur), a doorway to the
otherworld next to Lake Van (pic courtesy: PeopleofAr)

The intricate megalithic stonework inside the complex, that resembles Puma Punku and other sites in Peru and Bolivia.
Day 10 - Wednesday September 10th
After breakfast fly out of Van Airport back to Istanbul. B. End of tour, unless you join us at Petra, Jordan. See below.
PLEASE NOTE: THE TOUR NOW INCLUDES GOBEKLI TEPE'S SISTER SITE, KARAHAN TEPE
Hugh's article about Karahan Tepe's unfinished monoliths


Left, stone avenue at Karahan Tepe. Right, Karahan's unfinished monolith, 18 feet (5.5 m) in length and
nearly 6 feet 6 inches (2 m) in width, and weighing as much as 15-20 tonnes.
Discovered as recently as 1997, Karahan Tepe might be described as Gobekli Tepe's sister site. Located in the Tektek Mountains, some 40 miles from Sanliurfa it is an early Neolithic stone sanctuary constructed on an elevated platform some 10,000 to 10,500 years ago. A series of stone avenues ascend toward an exposed area of bedrock covered in cupules (bored cup marks), twin holes and rock-cut cisterns. Everywhere are fragments of cut and dressed stone from porthole stones and standing pillars. More remote than Gobekli Tepe, Karahan Tepe possesses an eerie ambience that tells of rites and rituals during some forgotten age that archaeology might one day unravel. From the summit of its northern knoll, during the epoch of its construction the observer would have been able to watch the stars of Cygnus and the Milky Way set into a nearby tabletop mountain peak.
PRICE INCLUDES:
- 2 Domestic Airline Tickets (Istanbul – Urfa / Van - Istanbul )
- 4 Nights Stay in Urfa Hilton Garden Inn Hotel
- 1 Night stay in Euphrat Hotel Mt. Nemrut HB
- 1 Night stay in Diyarbakir B & B
- 1 Night stay in Mus Hotel B & B
- 2 Nights stay in Van Tamara Hotel B & B
- Transportation in comfortable A/C Buses
- Specified museum entrance fees
- Meals specified
- 24 hours professional English Speaking guide
- Expenses of the guide & driver
DOES NOT INCLUDE:
- Drinks during meals
- Tips
- Visa fee
- Any other item not explicitly stated in inclusions above
TOUR ADD-ON: Petra, Jordan
Day 1 – Thursday September 11th: (Day 11 of main tour):
Meet Queen Alia International Airport, transfer to hotel in Petra. Over Night
| | |
| --- | --- |
| Ad Deir ("The Monastery") in 1839, by David Roberts | The Siq entrance, showing 1947 and 2013 comparison |

Day 2 – Friday September 12th:
After breakfast, Start Visit to Petra, Starting from Entrance –Take a horse ride for Around 300 Meters till The Start of the Siq (This is not recommendable for Elderly People) , then Go Through Siq ( 01 Kilometer on Feet) Till Reaching Treasury – Stop for Viewing the Site – Then Proceed to Nabatean Tombs, Roman Theater, and Colonnaded Street – Back to Entrance – Proceed to Hotel for Over Night. B.
Day 3 – Saturday September 13th:
After breakfast, Start Second Visit of Petra including Monastery , Wadi Farasa , unknown Martyr Tomb , Lions Road – Back to Hotel in Petra for Over Night. B
| | |
| --- | --- |
| Horse-riding through Petra. | The Uneishu Tomb, Petra. |
Day 4 – Sunday Septemnber 14th:
After Breakfast, Pick up from Hotel , Transfer to Queen Alia Airport – Drop off in Airport for your departure flight -End of Our services. B
Price includes
- All transportation including internal flights
- Domestic flights within Turkey & to Petra
- All bus travel and accommodation
- English-speaking guides
- Entrances to sites and museums
- All VAT and local taxes
- Breakfasts
- Lunches & Dinners as stated in itinerary (L,D)

Price does not include
- Visas
- Tips and items of personal nature
- Any meals or activities not included in the programme
- International Flights
Photo credit: Martin Gray - www.sacredsites.com. Andrew Collins - www.andrewcollins.com and PDPhoto.org