In June this year we got to see Gobekli Tepe twice and visited the unexcavated Karahan Tepe, the sister site to Gobekli. It is at least 10,500 years old and consists of T-shaped pillar, with serpent carvings. Karahan Tepe also has a massive 18ft T-shaped pillar still in the quarry, similar to the 22ft one at Gobekli Tepe. See Karahan video here and Gobekli Tepe video here. Both sites are similar in style and function, but Karahan has unusual serpentine avenues leading up the hill. It has yet to be excavated, hence the tops of the tall pillars protrude from the surface, while a potentially huge temple exists right under our feet within the hill. Andrew Collins and our group of Megalithomaniacs thoroughly explored the site and ended up having tea with the family who oversee the area! We will revisit there in September to explore further. We hope you can join us, as we may discover something new. It is 60,000 square metres after all. See full details of the upcoming tour here: www.megalithomania.co.uk/edentour2014.html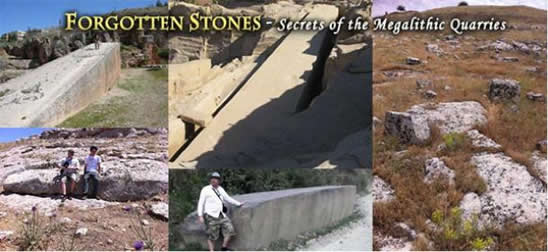 I am writing a series of articles for 'Ancient Origins' about the secrets of the megalithic quarries. The first one is about Gobekli Tepe, and the second one looks at a new 1000 ton block that has been discovered in the quarry at Baalbek.
Andrew Collins and I are also proud to announce the ancient mysteries event of the year - the Origins 2014 conference to be held in London on Saturday, November 15th and Sunday, November 16th. The Saturday conference will feature presentations from Professor Irving Finkel ("The Ark Before Noah"), Robert Temple (The Sirius Mystery Revisted), Brien Foerster via Skype from Peru (The Mystery of the Long Headed Elites, and the latest DNA Evidence on the Paracas Skulls), Manjir Samanta Laughton ("Black Holes and the Origins of Civilization"), Hugh Newman ("The Megalithic Giants: The Lost History of a Forgotten Race"), and Andrew Collins ("Rise of the Human Hybrids and the Mysteries of Göbekli's sister site, Karahan Tepe"). Venue is, as for Origins 2013, Steiner House, London NW1. Basic tickets are £48, plus there is an optional London Walkabout around the British Museum on the Sunday. For all details and to register immediately: www.andrewcollins.com/page/conference/origins2014.htm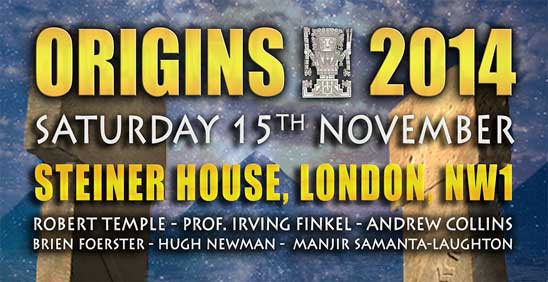 Join us for one extraordinary weekend of lectures, news and revelations, and a chance to share views and ideas with others on the quest of discovery. Please note. There are no plans this year to live stream the event, so the only way to experience it will be by being there live on the day. Remember also that last year's Origins 2013 conference sold out completely, so don't miss out. Register now.

We are also delighted to announce a very special tour in early September to the area around the traditional Garden of Eden site in Turkey, with an add-on to the superb rock-carved temples of Petra, Jordan. Full details are outlined here. Anyway, we look forward to seeing you fellow Megalithomaniacs on one of our expeditions this year and wish you all well.

Hugh Newman - Megalithomaniac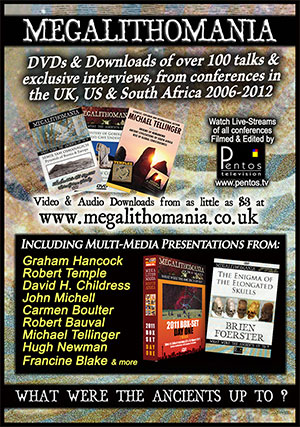 Click here to buy DVDs and Downloads of
multi-media talks from:
GRAHAM HANCOCK
ROBERT BAUVAL
DAVID. H CHILDRESS
CARMEN BOULTER
ANDREW COLLINS
ROBERT TEMPLE
MICHAEL TELLINGER
ANTOINE GIGAL
KLAUS DONA
HUGH NEWMAN
FRANCINE BLAKE
JOHN MAJOR JENKINS
SEMIR OSMANAGICH
BRIEN FOERSTER
MICHAEL CREMO
BETHE HAGENS
GLENN KREISBERG
WALTER CRUTTENDEN

& many more.
All filmed at Megalithomania...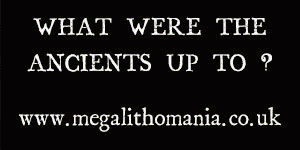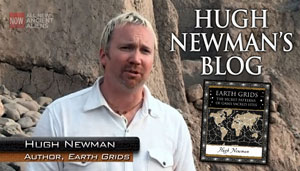 Plus see Hugh's web-page here
CONFERENCE REVIEWS:
"So was Megaltihomania worth the trip? Too right it was! Once again Hugh and his crew gave us a weekend of education, re-evaluation and entertainment"
more reviews
TOUR REVIEWS:
"Thanks Hugh! great trip for those that like alternative traveling and the deeper story to humanities history"- Jennifer Stein
more reviews & upcoming tours