HALF-PRICE DOWNLOAD SALE - Until Midnight December 9th 2013
Enjoy over 100 Megalithomania conference multi-media lectures for half the price for the next seven days - until midnight on December 9th 2013. Download video MP4s and audio MP3s of talks by Graham Hancock, Hugh Newman, Michael Tellinger, Robert Schoch, John Michell, Carmen Boulter, Andrew Collins, Hamish Miller and many more.
Enter this discount code at checkout to get a massive mega 50% Off: KO074117 (this does not apply to DVDs) - Click here
A big thank you to all those who attended Origins 2013 at Steiner House in London. It was a knowledge-packed event with some of the leading lights in the 'Alternative Archaeology' field. Graham Hancock, Robert Bauval, Andrew Collins, Graham Philips, Caroline Wise, and myself shared our latest research, that will soon be available on High Definition DVDs and downloads.
Just before that, we finished a marathon Megalithomania tour around Peru and Bolivia with David Hatcher Childress, Brien Foerster and Glenn and Cameron Broughton. We had a great group and we got to see some of the oldest and most impressive sites in South America. We took lots of photo's and filmed the whole thing. Some of the photo's are up on our Facebook Page, plus we'll be editing the film footage in due course.
We are taking a much needed year off in 2014 and will not be holding the Glastonbury Megalithomania event again until 2015. However we have lots of other activities and tours taking place including visiting Gobekli Tepe in Turkey, and Pentre Ifan in Wales, so keep checking back to see the plans as they unfold. The last Megalithomania conference took place in Glastonbury on 18th - 19th May 2013, with speakers including Robert Schoch Ph.D, Dr. Euan MacKie, Andrew Collins and many more. See full details here. DVDs and downloads are now available here.
"Had an awesome time at Megalithomania. It was really interesting, can't wait for the next one :) big thanks!!" Richard
"It was awesome lords and ladies, and if you missed it then don't even think about missing it next year" Maia
"What a great event - cannot praise it enough" Peter
Hugh Newman - Megalithomaniac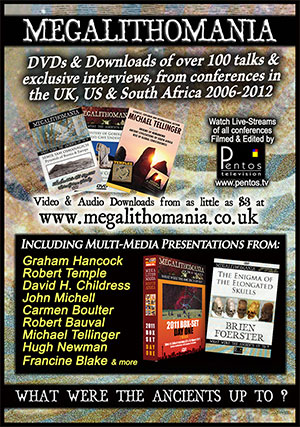 Click here to buy DVDs of
multi-media talks from:
GRAHAM HANCOCK
ROBERT BAUVAL
DAVID. H CHILDRESS
CARMEN BOULTER
ANDREW COLLINS
ROBERT TEMPLE
MICHAEL TELLINGER
ANTOINE GIGAL
KLAUS DONA
HUGH NEWMAN
FRANCINE BLAKE
JOHN MAJOR JENKINS
SEMIR OSMANAGICH
BRIEN FOERSTER
MICHAEL CREMO
BETHE HAGENS
GLENN KREISBERG
WALTER CRUTTENDEN

& many more.
All filmed at Megalithomania...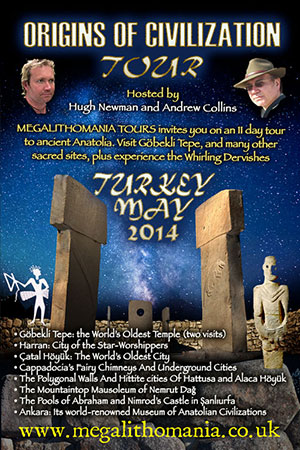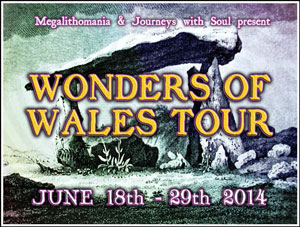 Go to Hugh Newman's page here

CONFERENCE REVIEWS:
"So was Megaltihomania worth the trip? Too right it was! Once again Hugh and his crew gave us a weekend of education, re-evaluation and entertainment"
more reviews
TOUR REVIEWS:
"Thanks Hugh! great trip for those that like alternative traveling and the deeper story to humanities history"- Jennifer Stein
more reviews & upcoming tours