The Megalithomania Grand Tour to South America
PERU, BOLIVIA & EASTER ISLAND TOUR
MEGALITHIC TECHNOLOGIES ON THE PATH OF VIRACOCHA
NOVEMBER 14th - 26th 2018 / NOV 26th - 30th 2018
There will only be 20 spaces for this exclusive tour!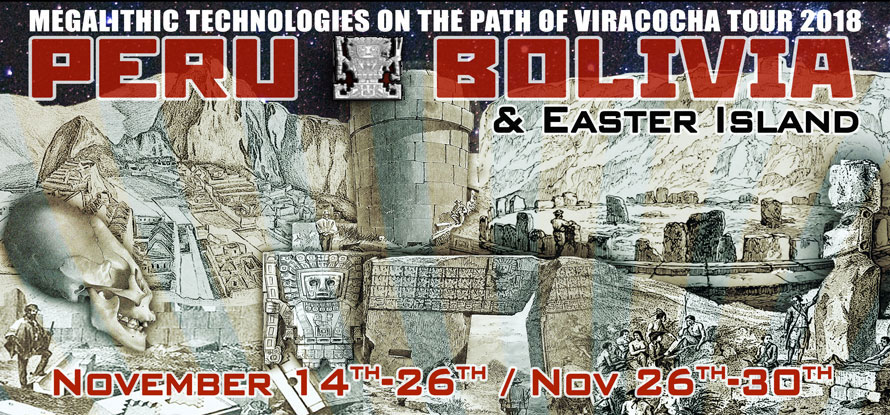 WHAT WERE THE ANCIENTS UP TO ?
- Why do Polygonal Walls turn up in Peru and Easter Island, as well as Egypt and other parts of the world?
- What is the prehistoric connection to Sumeria?
- How are the 'Navels' of Peru and Rapa Nui geodetically connected to Gobekli Tepe?
- Who was here before the Inca?
- How did the ancients create such magnificent megalithic monuments?
- Or did the elongated skull people do it?
Investigate these questions and more on our specially designed expedition to these ancient lands and follow in the footsteps of Hiram Bingham, Arthur Posnansky, Harold T. Wilkens, George Squier and other Antiquarians, looking at their discoveries and insights and how they were intoxicated with some very early cases of "Megalithomania."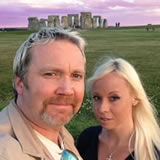 Hugh Newman is an explorer, megalithomaniac and author of Earth Grids: The Secret Pattern of Gaia's Sacred Sites (2008), Stone Circles (2017) and co-author of Giants on Record (2015). He has been a regular guest on History Channel's Ancient Aliens and featured in Search for the Lost Giants. As well as organising the Megalithomania conferences he is an experienced explorer and tour host and has visited Peru and Bolivia ten times. He lives very close to Stonehenge.
Jj Ainsworth is a researcher and explorer based in the US, who is an expert on ancient symbolism and connections between sites worldwide. She has featured on numerous radio shows, has published articles on www.ancient-origins.com, and is speaking at Megalithomania in Glastonbury in May 2018.
PERU/BOLIVIA TOUR: $3795 USD per person (single room $650)
EASTER ISLAND ADD-ON: $1895 USD (Single Room $375)
(Easter Island with international flights from Bolivia: $3195)
Main Tour $600 Deposit / Easter Island $500 Deposit
Prices based on sharing a room


Ancient Peru & Bolivia Tour - 13 days/12 nights

Day 1: Wednesday 14th Nov: Arrival Day in Lima. Overnight Miraflores, Lima.
Day 2: Thursday 15th Nov: Morning orientation and lecture at the hotel. Lunch. Visit National Anthropology Museum to see a wide variety of artifacts, with an incredible selection of elongated Paracas skulls that have recently been in the news. Overnight Miraflores, Lima. B.

Day 3:Friday 16th Nov: Meet at Lima airport at 11am sharp. Meet with the group to take our 2pm Flight to Cuzco (included), drive to the Sacred Valley, and settle in to hotel at Ollantaytambo. Introductory lecture and orientation with Hugh Newman. Overnight Ollantaytambo. B,D.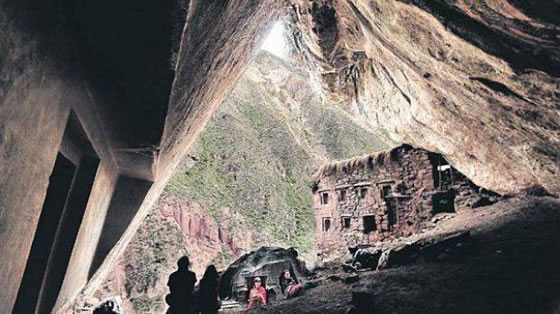 Day 4:Saturday 17th Nov: Today we visit the impressive Ollantaytambo and the Lazy Stones. Ollanyaytambo is a huge megalithic fortress dominating the Sacred Valley with polygonal construction, water features and evidence of high technology in ancient times. Buffet lunch, then optional visit to Nuapa Inglesis Carved cave (pictured above), that has impressive stone carvings in a remote and obscure location, but is rarely visited by tour groups. Overnight Ollantaytambo. B,L
Day 5: Sunday 18th Nov: Early morning luxury train ride to Machu Picchu, the highlight of South America for most visitors, but often overlooked are the impressive polygonal and cyclopean masonry from an earlier phase at this mountain-top site. Overnight Ollantaytambo. B
Day 6: Monday 19th Nov: Drive to Cuzco. Afternoon tour of Inca and megalithic Cuzco, including the twelve-sided stone, polygonal walls, and the Coricancha. Overnight Cuzco. Evening lecture. B.
Day 7: Tuesday 20th Nov: Tambo Machay, Qenqo and Sachsayhuaman; the mighty megalithic sites above Cuzco. Free time in afternoon. Overnight Cuzco. B.
Day 8: Wednesday 21st Nov: Early morning start in a luxury coach to drive south along the 'Path of Viracocha' and continue to the Temple of Viracocha. Buffet lunch at an Alpaca Farm (included). Videos and lectures on the coach journey. Continue to the impressive, but rarely visited Pukara Temple site and museum (pictured below). Overnight Hotel Jose Antonio, Puno. B, L.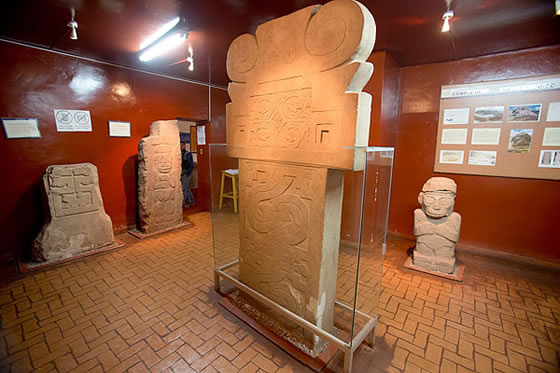 Day 9: Thursday 22nd Nov: This morning we take a drive to see the huge megalithic Chulpa towers and stone circles of Sillustani, and visit the small onsite museum, as well as ancient carvings and stone monuments. Lunch at a restaurant near Sillustani. The day rounds off with a visit to The Fertility Temple at Chucuito. Evening lecture by Hugh Newman. Overnight Puno: Hotel Jose Antonio. B, L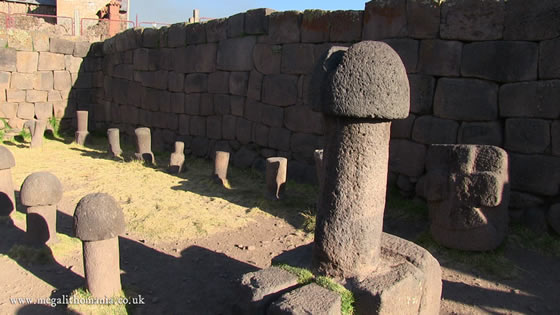 Day 10: Friday 23th Nov: Drive from Puno, across the Bolivian border to Copacobana, visiting Amaru Muru 'Stargate' on the way, with a brief stop to look at the newly discovered 'Inca Steps' of Quenuani.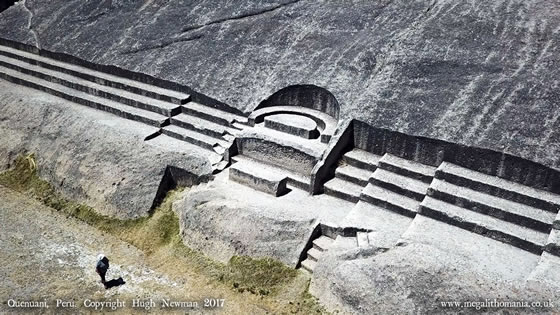 Take the hydrofoil boat to the Island of the Moon and Island of the Sun that both have Inca ruins. Isla Del Sol is the legendary birthplace of Viracocha and Manco Capac and has stunning views. Lunch included. Isla Del La Luna has Inca ruins. Legends in Inca mythology refer to the island as the location where Viracocha commanded the rising of the moon. Archeological ruins of an Inca nunnery were found on the eastern shore, that we will explore. Take the hydrofoil to Huatajata and visit the on-site Museum and meet with the grandson of the builders of Thor Herydals RA ll reed boats that transversed the ocean. Overnight in Huatajata. B,L.
Day 11:Saturday 24th Nov: Visit Tiwanaku and Puma Punku: Both Tiwanaku and Puma Punku are located at the same place. Tiwanaku is an enigmatic megalithic temple, with rough-hewn megaliths, strange statues, the Akapana pyramid, that has a major magnetic anomoly at its heart and the sunken temple with hundreds of carved protruding heads. There is also the incredible 'sun-gate'. It is believed that the 'Plumed Serpent' energy line goes through the pyramid and the site is flanked by two fault-lines. Puma Punku is much older and more mysterious. It is here we see evidence of ancient machining of stone. We will also visit the on-site museums and megalithic statues in the main square outside the church, and even see Tiwanaku stones embedded in the Church walls! Drive to La Paz. Overnight Hotel Ritz Apart, La Paz. B, L.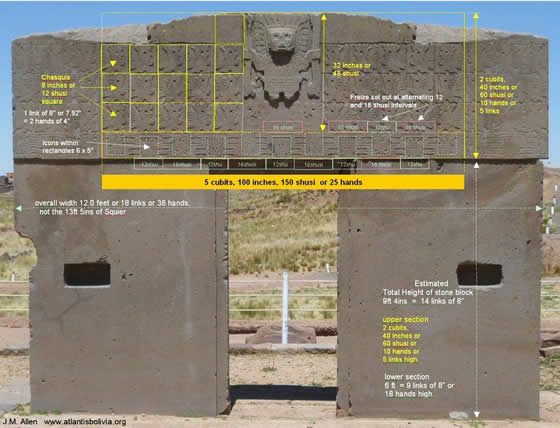 Day 12: Sunday 25th Nov: La Paz Museums. See the incredible Fuenta Magna Bowl with Sumerian inscriptions that suggest a link between the middle East and South America thousands of years ago. Plus the newly opened Tiwanaku Museum that houses hundred of incredible artefacts, statues and elongated skulls, as well as a very controversial carved, geometric stone sphere, that resembles the scottish neolithic spheres. We will also visit the Witches Market and have an optional city tour. Free time to explore La Paz. Farewell Dinner. Overnight Hotel Ritz Apart, La Paz. B.D.
Day 13: Monday 26th Nov: Fly back home from La Paz or fly to Lima for connecting flights (not included). End of tour or join the Easter Island add-on.
The Lima to Cuzco flight is included in the price, as well as the boat trip across Lake Titicaca and the luxury train trip to Machu Picchu, all entrance fees, accommodation in quality hotels, all breakfasts, most meals, and English speaking tour guides.
Easter Island - Special Add-On

- 5 days/4 nights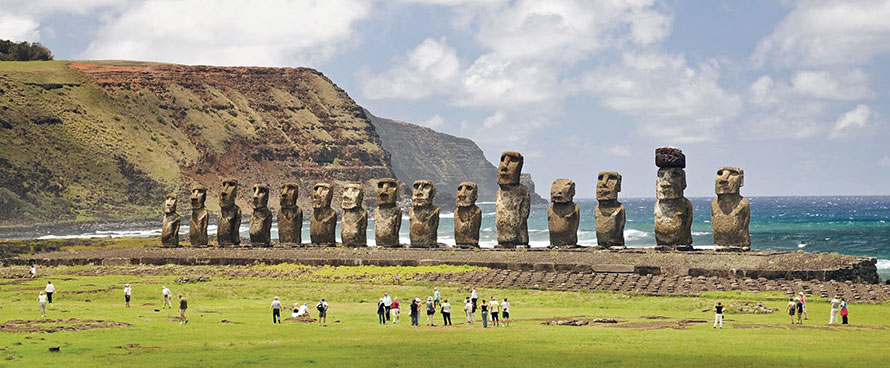 Day 1: Monday 26th November: 11.20am flight from La Paz to Santiago, Chile. Arrive 15.20pm. Lunch at airport. Connecting flight to Easter Island at 18.50pm, arriving at 22.15pm. Overnight Hotel Manavai.
Day 2: Tuesday 27th November: Visit the Ahu Tahai complex, one of the most spectacular ahu complexes on the island. Visit the Rano Kau Caldera and Orongo Village to see unusual and low-lying ancient stone houses as well as beautiful and well-preserved petroglyphs, including those depicting shapes associated with the traditional Birdman Competitions. Introductory dinner and lecture. Overnight Hotel Manavai. B.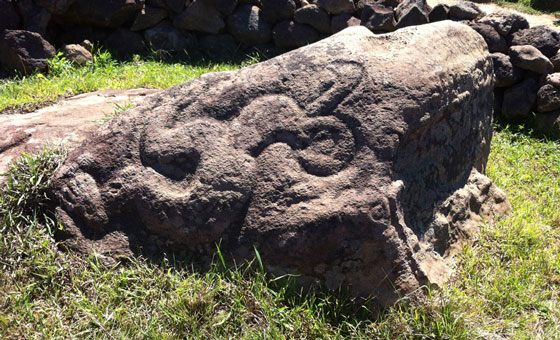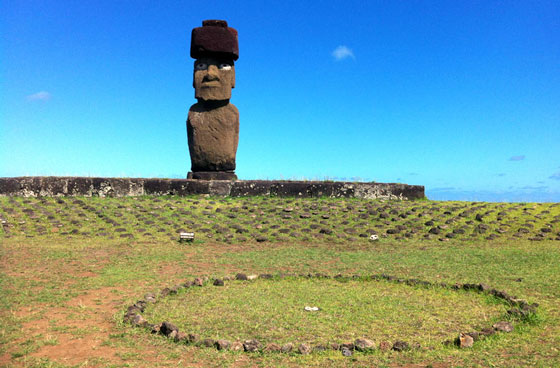 Day 3: Wednesday 28th November: Tour the Rano Raraku Quarry up close, where the moai (large stone heads and torsos) made from volcanic tufts were carved. More than 200 moai are still here in various states of completion, including one estimated to weigh approximately 250 tons. Box Lunch. Visit the Ahu Tongariki complex. Evening lecture. Overnight Hotel Manavai. B, L.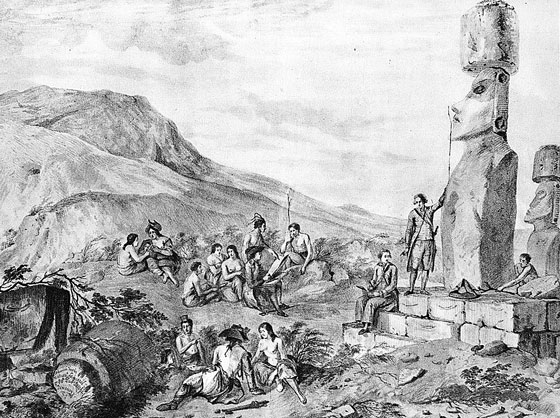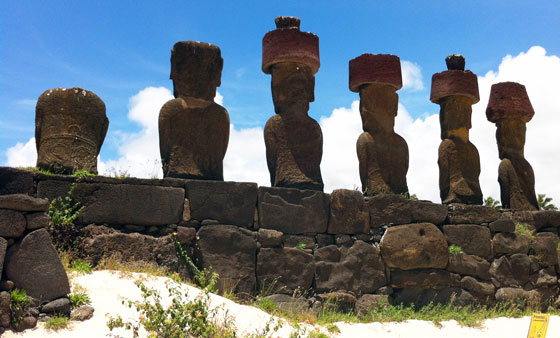 Day 4: Thursday 29th November: Visit the North Coast, including Ahu Maitake Te Moai, which oddly contains an older moai reused in the ahu wall. Then visit the area of Vinapu containing possibly the oldest and most incredible stonework on the island, polygonal walls that has been compared to that found in South America. In the late afternoon, visit the island's museum, Museo Antropológico Padre Sebastián Englert, where many beautiful and mysterious artifacts are located, including the enigmatic "female" moai. Overnight Hotel Manavai. B.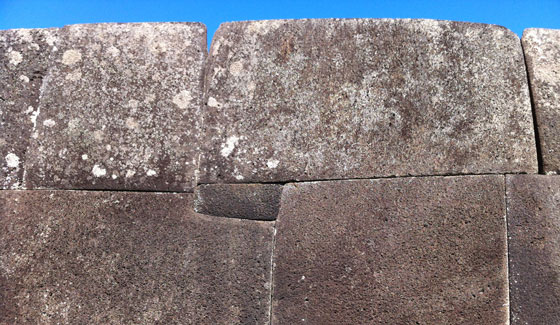 Day 5: Friday 30th November: Free morning to explore the beaches, archaeological sites, and shops of Easter Island. Lunch. Flight at 2.55pm back to Santiago, Chile. Optional overnight in Hotel at Santiago Chile Airport (not included), or fly directly home. Tour ends.
The tour is limited to 15 participants and registration must close in August, so book early. Pleasse note that international flights from Bolivia to Santiago Chile, and Santiago Chile to Easter Island (return) are included for those on the main Peru/Bolivia tour. For those only coming on the Easter Island add-on, we will meet on Easter Island. The tour will finish on 30th November.
Price includes
- All transportation on luxury coaches
- Domestic flight within from Lima to Cuzco
- Quality accommodation
- English-speaking guides
- Entrances to sites and museums
- All VAT and local taxes
- All Breakfasts
- Lunches & Dinners as stated in itinerary (L,D)
- Tips for coach drivers and porters
Easter Island Add-On
- International flight from La Paz, Bolivia to Santiago Chile
- One night at Airport Hotel in Santiago Chile
- International return flight from Chile to Easter Island


Price does not include
- Visas (US Visitors must pay $160 US to enter Bolivia)
- Other tips and items of personal nature
- Any meals or activities not included in the programme
- International Flights to Peru/Bolivia
Easter Island Add-On
- $85 Entrance Ticket to National Park

Terms & Conditions:
1) All Paypal fees and international transfer costs must be taken care of by the buyer. These will be added on final payment. We cannot take on these costs as we are keeping the prices right down to create an affordable tour.
2) Megalithomania cannot refund from 45 days before start of tour if you cancel.
3) Megalithomania will refund 50% if you cancel up until 45 days prior to the tour (this does not include deposit).
4) Megalithomania cannot refund deposits up to 60 days prior to tour. Before that we can refund only 50% deposit if you cancel.
5) Megalithomania cannot be held responsible for any injury, accident or stolen goods - please get travel insurance and relevant visas before booking this tour and have a passport with at least 3 months past the end date of the tour.
6) Megalithiomania has the right to change hosts, hotels and itinerary at any time.
7) Roommates: We are happy to try to and match our guests with a suitable roommate for those who are traveling alone. If we are unable to do this, you will be responsible to pay for the single supplement. Early registration will facilitate this process.
8) Please hold off booking your international flights, until the tour is confirmed in writing via email. We cannot be held responsible for any costs incurred.
9) Please email for further details - info@megalithomania.co.uk

The tour is organised by Megalithomania LTD.
The above itinerary is subject to possible changes.
Please enjoy a selection of videos, lectures and explorations in Ancient Peru and Bolivia.
PERU & BOLIVIA TOUR REVIEWS
Feedback from 'Archaeoastronomy Tour of Peru & Bolivia' 2017
"Hi Hugh, It was awesome traveling with you and JJ. I learned a lot and had an amazing time. Honestly, I will never look at things the same way again. Much love to you and JJ and I look forward to traveling with you again in the future." - Pamela Williams, USA
"Hi Hugh, One of the great pleasures of this trip was getting to hang out with you and Brien. So much knowledge shared in so little time that I'm still trying to digest it all. It was a great joy to be among so many people with similar interests. I am looking forward to another tour."
- James Davis, Panama
Feedback from 'Megaliths, Gods & Giants Peru & Bolivia' 2016 Tour
with guest host Jim Vieira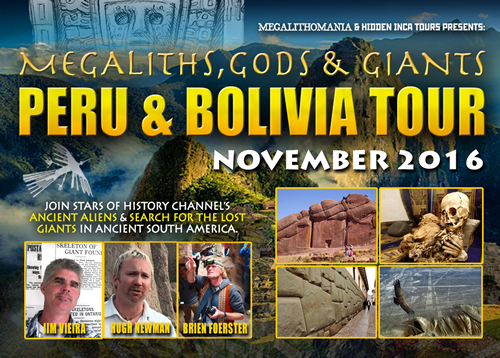 "Aloha everyone, Thank you for the trip of a lifetime! Enjoyed the sites, all of you, and the adventure. A hui hou....until we meet again."
- Mona Stevenson, Hawaii
"Thank you all for the fantastic time we had in Peru and Bolivia!"
- Jelle Kolmer, Holland
"Thank you all for a great trip.. Everyone of you added a brilliant insight into this trip for me and I thank you kindly for that. I normally don't have patience for humans but you all were beautiful in your own light. Once again I thank you for that."
- Sean Kelly, USA
"Hey, Hugh! It was great to meet you and learn so much about ancient mysteries from your vast storehouse of knowledge and insight!"
- Tom McGuire, USA
"The ancient Peru / Bolivia tour hosted jointly by Hidden Inca Tours and Megalithomania answered to all my expectations in every way but one, which it exceeded. I got to see the most important sites for my introduction to ancient megalithic Peru and Bolivia, of which surely Sachsayhuaman and Puma Punku (as part of the Tiahuanaco complex) were personal highlights. The hosts were very informative and also fun to be around. No stuffiness, no boring lecturing and an atmosphere of being among intellectual equals, even though in knowledge and experience our hosts far exceed my level. In general the tour was very well organised and where room for improvement was found and commented on, that input was welcomed and actually implemented expediently. So in all I had a wonderful experience and would recommend this to anyone. Now for the part exceeding my expectations... that was the group dynamics. I admittedly had expected a group of mainly elderly pensionados. Fine for me, a very fit 41 year old, but not thrilling either. But hey, no such thing! The group was actually a wonderfully diverse and blended crew of people from all walks of life, young and older. This made for a truly fun two weeks and lots of conversations on and off topic with views and multifaceted interpretations so diverse as to be almost kaleidoscopic. Open minds. I like! Thank you Irene, Gustavo, Brien, Hugh, Jim, Antonio, Sr. Luis and son, our very skilled bus drivers and of course my fellow Megalithomaniac group. As Arny puts it best: I'll be back! "
- Aaron Karmelk, Holland
"We still can't forget Peru and Bolivia, all the wonderful sites and moments of our great trip. In spite of all the hardships it will remain the most memorable journey of our lives. It was great to meet all of you, to hear your stories and live great moment together. Thanks for sharing your thoughts and experiences with us. Today we would like to wish you all lovely Christmas an much hapiness in the coming year. And of course more fantastic journeys to most mysterious places in the world"
- Hanna and Roland Vandiest, Poland/Belgium
"Hal and I are still missing Peru and especially all the wonderful friends we made along the journey! We're going to have pisco sours instead of egg nog this Christmas and we'll drink a toast to all Megalithomaniacs everywhere. Warmest wishes for a joyous holiday season and looking ahead to more adventures in 2017! "
- Hal and Ro Woodruff, USA
Feedback from 'Ancient Technology Peru & Bolivia' 2015 Tour with guest host Andrew Collins.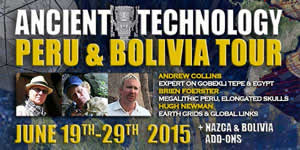 "Let me begin by offering a big thanks to Hugh, Brien, Andrew, Irene, & Gustavo for a very well-planned excursion, many amazing sites and sights, lovely accommodations and good company. I enjoyed all that I was able to experience. This was truly the trip of a lifetime for me.- Julie M, USA
"Thanks to Hugh, Brien, Irene, Gustavo and Andrew for making this a very enjoyable and fascinating tour." - Lasse C, Sweden
"What a phenomenal adventure! I cannot tell you how much I enjoyed the trip, the fascinating people I met along the way and of course the country. Meticulous attention to detail in the planning of each days itinerary and accommodation and of course the local wisdom of Gustavo to top it off. The ability to share in some "off the beaten track" sites was the cherry on the top. A HUGE thank you to Brien, Hugh, Andrew and Gustavo as well as Irene of course for making it such a memorable trip. For anyone considering this tour - stop considering and just do it!!" - Kurt B, USA
Feedback from 'Portals of Ancient Peru & Bolivia' 2014 Tour
with guest host Freddy Silva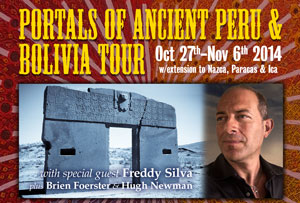 "Just to say a big thank you for the trip, such fun and full of giggles. From years of reading about and seeing pictures of so many of the sites visited on this trip, to finally feeling the incredible energies that surround them, was for me personally an amazing experience. So thank you all for putting together such a memorable tour. Great menu, interesting and fun crowd of fellow travellers. Good places to stay. Great stuff!"
- Lyn de Trense, England
"I want to once again thank Brien, Hugh, Irene, and Gustavo for this great tour. It definitely exceeded my expectations. You get to see many sites that would otherwise be more difficult to get to on other tours or by yourself. The accommodations were excellent and everyone was very friendly. if you like interesting information, exploring ancient sites and good company, this is the tour to go on!"
- Garrett Leo, USA
Feedback from 'The Path of Virococha' 2013 Tour with guest hosts David Hatcher Childress and Glenn Broughton.

"For us the tour was an amazing opportunity and a privilege to explore the earth energies at an incredible number of megalithic sites. We learnt so much and feel truely grateful for what was revealed to us, and to all the organisers, especially Hugh & Brien, for putting together such a memorable and stimulating tour. It was also a joy to be in the company of so many like minded people with a deep curiosity about the ancient ancestors"
- Chris & Marilyn Gulliver, New Zealand
"Your tour exceeded our expectations in nearly every way. We saw, learned and experienced more than we ever would have on any other kind of tour. In addition, we traveled and made new friendships with people from all over the world. This trip is definitely one of the highlights of our life travels! For this we would like to thank you, Hugh, Irene, Cameron and Glen and David and Jennifer from the bottom of our hearts!"
- Ed & Teresa Chipp, USA
"So once more I want to thank you - Brien, David, Hugh, Irene, Cameroon, Glenn - and also all the participants, for the most special journey i've ever had! Hope to have more of those with you and will recommend to the people who are interested."
- Vicki Molliver, Israel
"I loved the tour! Many thanks to all organisers, especially Irene :) I hope you are enjoying a break from questions and demands. Was great to meet you all and being in cusco without you all is not the same. I hope the tour has deepened your interest in the ancient mysteries like it did for me."
- Alex Jupp, UK
"I thought the trip was excellent. I learned so much and from so many people on this trip. Thanks to everyone for making it great."
- Suzan Moore, Canada
"I can safely say that this was one of, if not the best, experience of my life. Thanks Brien, Dave, Hugh, Glenn & Cameron and of course Irene for an amazing adventure. You have my tick of approval ;)."
- Tony Giovani, Australia
"It felt less like a tour group and more like I had flown in to visit friends who were showing me around their turf, and for me, that was fine. I still feel I got more out of this tour than I would have with any other group. I enjoyed myself to the utmost, and was pleasantly surprised by almost everything - especially the kind people with whom I had the privilege of sharing this time."
- Sandy Underwood, USA
Feedback from 'Ancient Peru, Nazca & Easter Island' 2012 Tour with guest host Dr. Robert Schoch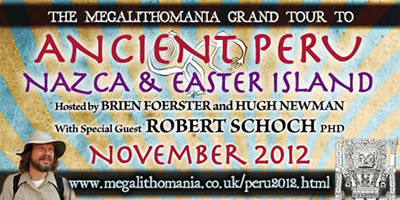 "Still reminiscing about the trip. It was such a wonderful experience made even better by such a great group of people. And thank you all for the amazing photographs"
- Janine Moore, USA
"Great crew, awesome time! Looking forward to sharing some video and photos!!!"
- G. Maestro, USA
"Thanks Hugh! great trip for those that like alternative traveling and the deeper story to humanities history"
- Jennifer Stein, USA
"Hugh, just wanted to thank you once again for all you did to bring our trip together. I learned so much and absorbed so many new ideas to come back and study....a million directions to go, and I'll continue to look to the people and resources of Megalithomania to lead me on. You do important work. Thanks."
- Karla Mahoney, USA
"What an amazing adventure we've had over the last 10 days! Peru is a beautiful diverse country filled with so many incredible sights and mysteries! We have been on a non-stop ride, and this journey we will never forget"
- Jenny Geyser, USA
"I just have to send a big thanks to all the persons on the Megalithomania Peru/Bolivia, It was a pleasure to spend time with all the persons and visit all these special sites. A big thanks to you all!"
- Jonny Ueland, Norway
Terms & Conditions:
1) All Paypal fees and international transfer costs must be taken care of by the buyer. These will be added on final payment. We cannot take on these costs as we are keeping the prices right down to create an affordable tour.
2) Megalithomania cannot refund from 45 days before start of tour if you cancel.
3) Megalithomania will refund 50% if you cancel up until 45 days prior to the tour (this does not include deposit).
4) Megalithomania cannot refund deposits up to 60 days prior to tour. Before that we can refund only 50% deposit if you cancel.
5) Megalithomania cannot be held responsible for any injury, accident or stolen goods - please get travel insurance and relevant visas before booking this tour and have a passport with at least 3 months past the end date of the tour.
6) Megalithiomania LTD has the right to change hosts, hotels and itinerary at any time.
7) Roommates: We are happy to try to and match our guests with a suitable roommate for those who are traveling alone. If we are unable to do this, you will be responsible to pay for the single supplement. Early registration will facilitate this process.
8) Please hold off booking your international flights, until the tour is confirmed in writing via email. We cannot be held responsible for any costs incurred.
9) Please email for further details - info@megalithomania.co.uk