MEGALITHOMANIA GLASTONBURY CONFERENCE 2015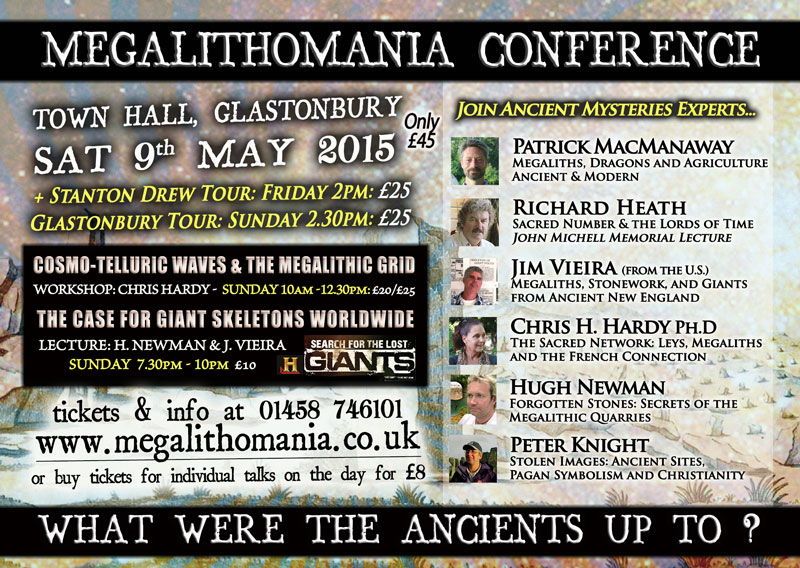 NEW VENUE, NEW FORMAT, OLD STONES!
Megalithomania returns on May 9th 2015 at the Town Hall, Glastonbury. We are now an action-packed one-day event, with extra activities on the Friday and Sunday. Get your tickets on the door for £45. Individual talks £8.00. Sunday activities prices below.

ONLINE TICKET SALES CLOSED
Tickets Available on the Door
Still Spaces for Saturday Conference,
and all Sunday activities
If you have an enquiry please email us at info@megalithomania.co.uk - Info: 01458 746101
IMPORTANT: If for any reason you cannot make it to the conference after purchasing a ticket, please be aware we cannot offer refunds,
but we will give you full access to the live-stream or post-conference videos to watch from the comfort of your own home, at no extra charge. PLEASE NOTE: The organisers reserve the right to change the programme, speakers, venue and schedule.
SATURDAY 9th MAY:
9.30 am:Town Hall Doors Open/Registraion
10 .00 – 11.00am: Peter Knight
Break
11.15am - 12.15pm: Hugh Newman
Break
12.30 - 1.30pm: Chris H. Hardy
1.30 - 2.45pm: Lunch
2.45 - 3.45pm: Richard Heath
(introduced by Chrisine Rhone)
Break
4.00 - 5.00pm: Jim Vieira
(online via Skype)
Break
5.15 – 6.00pm: Speakers Forum
(all speakers included, plus Chris:ne Rhone & hosted by Hugh Newman)
6.00 - 7.30pm: Dinner
7.30 - 8.30pm: Patrick MacManaway
8.30pm: Book Signings
9.00pm Close
Megalithomania TOURS & EXTRA ACTIVITIES 2015


7.30pm Sunday 10th May - Special Evening Lecture :
Jim Vieira (Live online from the US) and Hugh Newman.
The Case for Giant Skeletons worldwide in Prehistoric times: The Evidence, The Reports, the Smithsonian, the Cover-Up.
(Two lectures back-to-back)
7.30pm - 10.00pm
£10 advance/concessions, £11 door.
Disclaimer: The organisers reserve the right to change the programme, speakers, venue and schedule at any time
GLASTONBURY UK CONFERENCE INFO
The Conference main event takes place in The Town Hall - which is in the centre of Glastonbury. See map Above. Parking is next door in the Abbey Car Park

Check out 'The Town Hall' venue here
Local Hotels & B&B's here

BY TRAIN: The nearest stations to Glastonbury are Castle Cary (30 mins drive), Taunton, Bristol (55 mins drive) and Bath. Connections to Glastonbury by Buses from all stations are available. Enquiries:
National Rail (Trains to Bristol) 08457 48 49 50
First ( Buses from Bristol) 0870 6082608

BY AIR: The nearest local airports are Bristol and Exeter. Buses to Glastonbury available from both city centres.
From London Heathrow and Gatwick, trains/buses to Reading connect with trains to Bristol, Bath, Castle Cary.
coaches from both airports to Bristol connecting to Glastonbury. Enquiries: National Express or call 08705 808080

BY ROAD: Glastonbury is on A39 and A361 in Somerset. From London, take the M3 on to the A303. Stay on A303 past Wincanton and Sparkford to Podimore roundabout. Take A372 Langport Road to B3151 intersection. Turn right onto B3151 sign posted to Somerton and Street. Follow signs to Glastonbury from Somerton (journey takes 2 - 3 hours depending on traffic).

BY BUS: From Bristol, Bath, Taunton, Bridgwater and Wells local First buses come to Glastonbury.
High Speed Coaches arrive daily from London (operators: Bakers Dolphin, National Express). Enquiries: First 0870 6082608
National Express 08705 808080

March 17th - 26th 2015
ANGKOR WAT & LAOS TOUR
Featuring Spring Equinox sunrise
at Angkor Wat
and Plain of Jars in Laos
Full details here


June 19th - July 29th 2015
PERU & BOLIVIA TOUR
Hosted by Andrew Collins, Hugh Newman & Brien Foerster.
plus add-on to Nazca/Paracas/Ica
Full details here


May & September 2015
GOBEKLI TEPE MINI-TOURS, TURKEY
With Andrew Collins & Hugh Newman
Full details Here




July 21st - 30th 2015


MYSTERIES OF ENGLAND TOUR


Hosted by Glenn and Cameron Broughton, with guest speakers Peter Knight & Gary Biltcliffe


Full details here





August 18th - 27th 2015


MAGIC OF CELTIC IRELAND
Hosted by Glenn and Cameron Broughton, Anthony Murphy & Karyl Huntley
Full details her


September 17-25, 2015 & Add-On


The Highlands & Islands Of Scotland
Hosted by Cameron and
Glenn Broughton
Full details here