MEGALITHOMANIA GLASTONBURY CONFERENCE 2016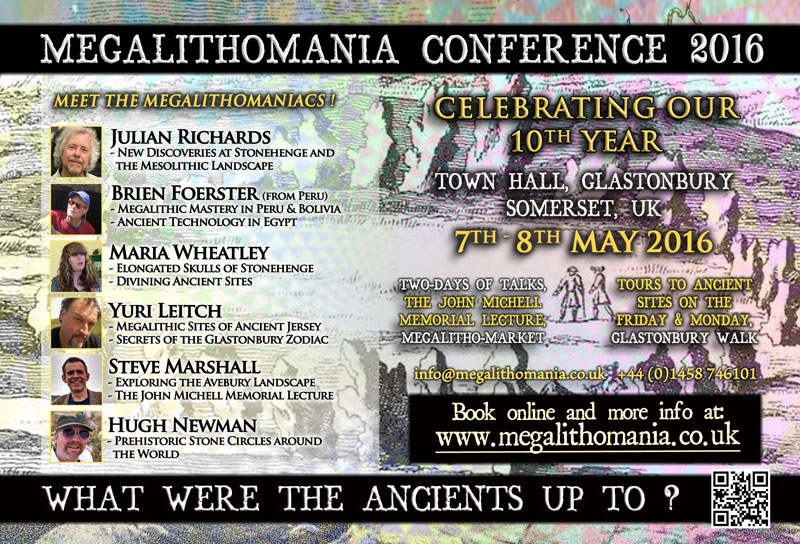 NEW VENUE, NEW FORMAT, OLD STONES!
Megalithomania returns on May 7th - 8th 2016 at the Town Hall, Glastonbury. We are now a two-day event, with megalithic tours on the Friday, Monday & Tuesday. Tickets are £85.00 + booking fee (tours are extra), or save £25 on the 'Everything' Ticket. More speakers to be confirmed shortly.

If you have an enquiry please email us at info@megalithomania.co.uk - Info: 01458 746101
IMPORTANT: If for any reason you cannot make it to the conference after purchasing a ticket, please be aware we cannot offer refunds,
but we will give you full access to the live-stream or post-conference videos to watch from the comfort of your own home, at no extra charge. PLEASE NOTE: The organisers reserve the right to change the programme, speakers, venue and schedule
FRIDAY 6th MAY:
SACRED SITES AROUND GLASTONBURY
£25 inc entrance to Glastonbury Abbey and Chalice Well. 2.00 - 6.00pm. Meet in Glastonbury Town Hall Car Park. Walking tour to Chalice Well, Red & White Springs, Glastonbury Tor, The Egg Stone, Michael & Mary Lines, Glastonbury Abbey. £25 Includes entrance fees to Chalice Well & Abbey, with tour leader TBA.

MONDAY 9th MAY:
THE ANCIENT STONES AND TORS OF DARTMOOR
£45 inc coach. Lunch not included in price. Meet 9.15am in Glastonbury. Peter Knight will guide us through the sacred landscape of Dartmoor, with sites including Merrivale Stone rows, and nearby Megalith and stone circle. We will thenwalk up to Great Staple Tor nearby, to look at the simulacra, the rock outcrops, to view other tors, and look down at merrivale to see its landscape setting; lunch at Princetown (there are several cafes and a pub), and then come back north via the Shovel Down stone rows and nearby Kestor, with its simulacra and rock basins.

TUESDAY 10th MAY:


MEGALITHS & WATERWAYS OF AVEBURY AND ITS LANDSCAPE: 9.15am - 5.30pm.
£45 inc coach. Lunch not included in price. Meet 9.15am in Glastonbury. Maria Wheatley and Steve Marshall will guide us around Avebury Stone Circle, the Avenues, stone avenues, Silbury Hill and Devils Den. If we have time we will go to West Kennet Longbarrow. Maria will show us the hidden energies of the landscapw and Steve will give us insights and show us secrets of how the Avebury builders utilised water into the great design. We will get lunch at Avebury.

GLASTONBURY UK CONFERENCE INFO
The Conference main event takes place in The Town Hall - which is in the centre of Glastonbury. See map Above. Parking is next door in the Abbey Car Park

Check out 'The Town Hall' venue here
Local Hotels & B&B's here

BY TRAIN: The nearest stations to Glastonbury are Castle Cary (30 mins drive), Taunton, Bristol (55 mins drive) and Bath. Connections to Glastonbury by Buses from all stations are available. Enquiries:
National Rail (Trains to Bristol) 08457 48 49 50
First ( Buses from Bristol) 0870 6082608

BY AIR: The nearest local airports are Bristol and Exeter. Buses to Glastonbury available from both city centres.
From London Heathrow and Gatwick, trains/buses to Reading connect with trains to Bristol, Bath, Castle Cary.
coaches from both airports to Bristol connecting to Glastonbury. Enquiries: National Express or call 08705 808080

BY ROAD: Glastonbury is on A39 and A361 in Somerset. From London, take the M3 on to the A303. Stay on A303 past Wincanton and Sparkford to Podimore roundabout. Take A372 Langport Road to B3151 intersection. Turn right onto B3151 sign posted to Somerton and Street. Follow signs to Glastonbury from Somerton (journey takes 2 - 3 hours depending on traffic).

BY BUS: From Bristol, Bath, Taunton, Bridgwater and Wells local First buses come to Glastonbury.
High Speed Coaches arrive daily from London (operators: Bakers Dolphin, National Express). Enquiries: First 0870 6082608
National Express 08705 808080
February 19th - March 1st 2016


ANCIENT MEXICO TOUR
Brien Foerster and Hugh Newman Full Details Here

May 2016


GOBEKLI TEPE & TURKEYGRAND TOUR
Andrew Collins & Hugh Newman
Full details Here

July 2016
SEARCH FOR SHAMBHALA INDIA TOUR
Andrew Collins & Hugh Newman
Full details Here


September 2016


ANCIENT EGYPT & BAALBEK TOUR


Andrew Collins, Hugh Newman

and Khemit Mystery School

Full Details Here

November 2016


PERU & BOLIVIA TOUR


Brien Foerster, Jim Vieira, H Newman
(Details Coming Soon)