MEGALITHOMANIA 2013 TICKETS
NEW: Subscribe to watch LIVE-STREAM of Conference here
Join us for seven days of pure Megalithomania, from 17th - 23rd May 2013 (or just the conference on 18th - 19th May). There are five days of tours, the two day conference and an extra lecture with Robert Schoch on the Monday evening. The ticket price for the full seven days is only £330 (not including accommodation - see details below for that), or you can join us for individual days too, or even pop in for individual lectures on the day. Glastonbury is the best place to hang out for a week with local ancient sites, great organic cafe's and more esoteric book shops and crystal shops than any other town in the world! Plus the Michael and Mary energy lines sweep through the town, so watch out for those!
See the full line-up of Speakers for Megalithomania 2013 here.
The event will be filmed and Live-Streamed by a new film crew in High Definition. Watch this space for details.

SATURDAY 18 May


9.00 – Doors Open
9.45 – Introduction
10.00 - GARY BILTCLIFFE
The Etruscan Legacy and Megalithic Achievements of Italy
11.am - Coffee Break
11.30 - MARIA WHEATLEY
Megalithic Power and Serpent Energies
12.30 - Lunch
2.00 - M.J. HARPER & H.L. VERED
The Megalithic Empire
3.00 - Break
3.15 - PAUL D. BURLEY

(from the US)


From Stone Circles to Higgs Boson: Implications of Sacred Spherical Geometry
4.15 - Tea Break
4.45 - MICHAEL GLICKMAN
John and the Michellettes
John Michell Memorial Lecture, hosted by Christine Rhone
5.45 – Dinner Break
Doors re-open at 7.15pm
7.30 - ROBERT SCHOCH Ph.D
Easter Island, Solar Outbursts, and the End of the Last Ice Age
9.00 - CLOSE

SUNDAY 19 May


9.00 – Doors Open
9.30 - HUGH NEWMAN
Marbles of the Gods: The Megalithic Spheres of Costa Rica
10.30 - Coffee Break
10.45 - GLENN BROUGHTON
Ancient Mysteries for Modern Times
11.45 - Break
12.00 - EUAN MACKIE Ph.D
The Megalith Builders: British Archaeology and Alexander Thom
1.00 – Lunch
2.30 - ROSS HAMILTON

(via Skype)


Mounds, Giants & Star-Lore of the Ohio Valley
3.30- Tea Break
3.45 - ANDREW COLLINS
From Gobekli Tepe to Stonehenge
4.45 - Break
5.15 - SPEAKERS FORUM
Hosted by Hugh Newman with the speakers and special guests
6.15 – CLOSING ADDRESS
6.30 - CLOSE

Monday Night Talk with ROBERT SCHOCH 7.30pm
The Great Sphinx, Göbekli Tepe, and the Origins of Civilization
---
MEGALITHOMANIA TOURS + MONDAY LECTURE 2013


All Tours include Coach Journey, Entrance to Sites, Guidance with experienced Megalithomaniacs
and Geoff Stray driving the Bus!
Robert Schoch

will be co-hosting all the tours listed below.

Tuesday: Belas Knapp, Hetty Peglars Tump and the Rollright Stone Circle. A full day tour with Gary Biltcliffe, based upon his new book, The Spine of Albion. £50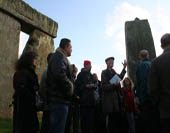 Wednesday AM: Glastonbury Walking Tour. Morning tour with Anthony Thorley visiting the Abbey, Glastonbury Tor, Michael & Mary energy currents, Windmill Hill. £25
Wednesday PM: Stonehenge private access. After lunch we go to the area around Stonehenge where we meet Maria Wheatley, exploring Durrington Walls, Woodhenge, the Cursus and numerous mounds, before heading in to Stonehenge for our private one-hour access. £40
Thursday: The Cerne Giant - Landscape and the Stargate. Peter Knight (author of the new book on the Giant) will lead us around this sacred Dorset landscape. We shall view the Iron Age Giant, and learn of its connection with the Stargate of Egyptian myths. The tour will also visit other local sites, such as a sacred spring, the abbey site, churches, isolated megaliths and wayside crosses. £50

---
If you cannot book online, please send a cheque payable to 'Megalithomania' to:
Megalithomania, 149 Brickley Lane, Devizes, Wiltshire, SN10 3BL (please add £2.50 for P&P).
If you have an enquiry please email us at megalithomania@live.co.uk- Phone: 07779 113542
IMPORTANT: If for any reason you cannot make it to the conference after purchasing a ticket, please be aware we cannot offer refunds,
but we will give you full access to the live-stream to watch from the comfort of your own home, at no extra charge.

GLASTONBURY UK CONFERENCE INFO




The Conference main event takes place in The Assembly Rooms - which is in the centre of Glastonbury, on the High Street. See map Above.

Check out 'The Assembly Rooms' venue here
Local Hotels & B&B's here

BY TRAIN: The nearest stations to Glastonbury are Castle Cary (30 mins drive), Taunton, Bristol (55 mins drive) and Bath. Connections to Glastonbury by Buses from all stations are available. Enquiries:
National Rail (Trains to Bristol) 08457 48 49 50
First ( Buses from Bristol) 0870 6082608

BY AIR: The nearest local airports are Bristol and Exeter. Buses to Glastonbury available from both city centres.
From London Heathrow and Gatwick, trains/buses to Reading connect with trains to Bristol, Bath, Castle Cary.
coaches from both airports to Bristol connecting to Glastonbury. Enquiries: National Express or call 08705 808080

BY ROAD: Glastonbury is on A39 and A361 in Somerset. From London, take the M3 on to the A303. Stay on A303 past Wincanton and Sparkford to Podimore roundabout. Take A372 Langport Road to B3151 intersection. Turn right onto B3151 sign posted to Somerton and Street. Follow signs to Glastonbury from Somerton (journey takes 2 - 3 hours depending on traffic).

BY BUS: From Bristol, Bath, Taunton, Bridgwater and Wells local First buses come to Glastonbury.
High Speed Coaches arrive daily from London (operators: Bakers Dolphin, National Express). Enquiries: First 0870 6082608
National Express 08705 808080