MEGALITHOMANIA GLASTONBURY CONFERENCE 2017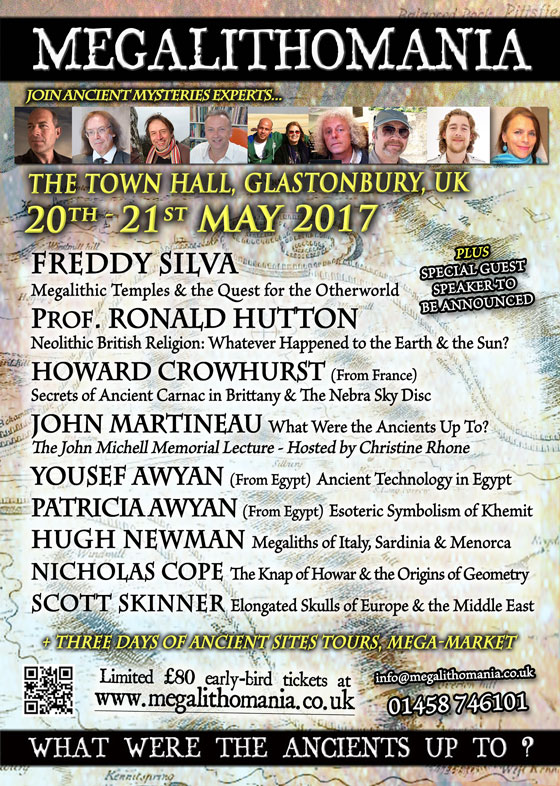 WHAT WERE THE ANCIENTS UP TO ?
Megalithomania returns on May 20th-21st 2017 at the Town Hall, Glastonbury. We are a two-day event, with megalithic tours on the Friday, Monday, Tuesday & Wednesday (not included in ticket price - details TBC). Weekend tickets are £80 early-bird + £2.50 booking fee (first 50 tickets), then £86.00.

If you have an enquiry please email us at info@megalithomania.co.uk - Info: 01458 746101
IMPORTANT: If for any reason you cannot make it to the conference after purchasing a ticket, please be aware we cannot offer refunds,
but we will give you full access to the live-stream or post-conference videos to watch from the comfort of your own home, at no extra charge. PLEASE NOTE: The organisers reserve the right to change the programme, speakers, venue and schedule
NOTE: Schedule to be confirmed

9.30am: Registration
10:00 am: Howard Crowhurst
Secrets of Ancient Carnac in Brittany
11.00 am: BREAK
11.15 am: Scott Skinner
Elongated Skulls of Europe & the Middle East
12.15 pm: BREAK
12:30 pm: Patricia Awyan
(From Egypt) Esoteric Symbolism of Khemit
1.30 pm: LUNCH
2.45 pm: Nicholas Cope
The Knap of Howar & the Origins of Geometry
400 pm: BREAK
4.15 pm: Prof. Ronald Hutton
Neolithic British Religion:Whatever Happened to the Earth & Sun?
5.30 pm: DINNER
7.30 pm: Keynote: Freddy Silva
Megalithic Temples & the Quest for the Otherworld
9.00pm: END


NOTE: Schedule to be confirmed

10:00 am: Hugh Newman
Megaliths of Italy, Sardinia & Menorca
11.00 am: BREAK
11.15 am: Yousef Awyan
(From Egypt) Ancient Technology in Egypt
12.15 pm: BREAK
12:30 pm: Howard Crowhurst
The Nebra Sky Disc
1.30 pm: LUNCH
2.45 pm: John Martineau:
The John Michell Memorial Lecture,
hosted by Christine Rhone
3.45 pm: BREAK
4.00 pm: Special Guest Speaker TBC
5.00 pm: BREAK
5.15 pm: Speakers Forum
5.45 pm: Closing Remarks.
6.00 pm: END
Pre-Conference and Post-Conference Tours:
Friday 19th (Private access to Stonehenge & Cursus & mounds)
Monday 22nd (Exmoor & Dartmoor)
Tuesday 23rd (Avebury, Devils Den, Silbury Hill)
Wednesday 24th - Ancient Avalon Walking Tour. (Includes entrace tickets to Chalice Well and The Abbey.)




GLASTONBURY UK CONFERENCE INFO
The Conference main event takes place in The Town Hall - which is in the centre of Glastonbury. See map Above. Parking is next door in the Abbey Car Park

Check out 'The Town Hall' venue here
Local Hotels & B&B's here

BY TRAIN: The nearest stations to Glastonbury are Castle Cary (30 mins drive), Taunton, Bristol (55 mins drive) and Bath. Connections to Glastonbury by Buses from all stations are available. Enquiries:
National Rail (Trains to Bristol) 08457 48 49 50
First ( Buses from Bristol) 0870 6082608

BY AIR: The nearest local airports are Bristol and Exeter. Buses to Glastonbury available from both city centres.
From London Heathrow and Gatwick, trains/buses to Reading connect with trains to Bristol, Bath, Castle Cary.
coaches from both airports to Bristol connecting to Glastonbury. Enquiries: National Express or call 08705 808080

BY ROAD: Glastonbury is on A39 and A361 in Somerset. From London, take the M3 on to the A303. Stay on A303 past Wincanton and Sparkford to Podimore roundabout. Take A372 Langport Road to B3151 intersection. Turn right onto B3151 sign posted to Somerton and Street. Follow signs to Glastonbury from Somerton (journey takes 2 - 3 hours depending on traffic).

BY BUS: From Bristol, Bath, Taunton, Bridgwater and Wells local First buses come to Glastonbury.
High Speed Coaches arrive daily from London (operators: Bakers Dolphin, National Express). Enquiries: First 0870 6082608
National Express 08705 808080