CLICK HERE to BUY TICKETS


NEW:

Subscribe to watch LIVE-STREAM of Conference here

The 2013 Megalithomania conference takes place on the 18th - 19th May at the Assembly Rooms in Glastonbury

ROBERT SCHOCH Ph.D


(from the US)


Forgotten Civilization: Easter Island, Gobekli Tepe, the Sphinx and Solar Outbursts


Robert M. Schoch earned his Ph.D. (1983) in Geology and Geophysics at Yale University. In the early 1990s, Dr. Schoch stunned the world with his revolutionary research that recast the date of the Great Sphinx of Egypt to a period thousands of years earlier than its standard attribution. In demonstrating that the leonine monument has been heavily eroded by water despite the fact that its location on the edge of the Sahara has endured hyper-arid climactic conditions for the past 5,000 years, Dr. Schoch revealed to the world that mankind's history is greater and older than previously believed. Dr. Schoch's latest research, put forth in his newest book, Forgotten Civilization: The Role of Solar Outbursts in Our Past and Future, points to the astronomical cause of the demise of antediluvian civilizations, as well as the scientific and archaeological evidence that supports his conclusions. Robert joined Megalithomania on the Peru and Easter Island expedition in November 2013. He will be presenting twice at Megalithomania 2013 - on Saturday evening and Monday evening, plus he will be a special guest on all of the scheduled tours and the speakers forum on Sunday. www.robertschoch.com
---

EUAN MACKIE Ph.D - The Megalith Builders: British Archaeology and Alexander Thom
For a few years in the 1970s it seemed as if British archaeology might take on board and assimilate at least some of Aexander Thom's radical new ideas about the intellectual capabilities present in Neolithic Britain. However this never happened and now the profession is more hostile than has ever been to these concepts. Various suggestions will be offered as to why is this so, including the social nature of academic communities themselves. One important reason is the relentless opposition of Britain's first and only Professor of Archaeoastronomy, Clive Ruggles, who has 'downgraded' Thom's ideas so that they have little effect on traditional archaeological thinking. Paradoxically over the last few decades a variety of new evidence has been accumulating which implies that Thom's original propositions were basically on the right lines, and the more important of these discoveries will be described. The newest and most dramatic however is from archaeology itself – nothing less that the first known stone temple precinct from northern Europe.
MacKie graduated with a degree in Archeology & Anthropology from St. John's College at the University of Cambridge in 1959 and has a PhD from the University of Glasgow where he is now an honorary research fellow. He was elected Fellow of the Society of Antiquaries of London in 1973, Keeper of Archaeology and Anthropology in 1974 and Deputy Director from 1986 - 1995. He took early part-time retirement in 1995 with full retirement 1998. He is also member of the Fellow of the Society of Antiquaries of Scotland, an Honorary Research Fellow of Hunterian until 2005 and an Honorary Research Associate of the National Museums of Scotland from 2007. Mackie is also a member of the Prehistoric Society and Glasgow Archaeological Society, of which he was president in the 1980s. His primary research interests include the Iron Age of Atlantic Scotland and The nature of the esoteric/specialised knowledge possessed by the chambered tomb and standing stone-bulders of Neolithic times. He has written hundreds of articles & papers and his most well known book is The Megalith Builders, published in 1977. He is an advocate of Alexander Thom and coined the term 'archaeoastronomy'.
---

ANDREW COLLINS - From Gobekli Tepe to Stonehenge
Göbekli Tepe in Southeast Turkey is one of archaeology's hottest properties at the moment. It consists of a series of megalithic enclosures nearly 12,000 years old, containing T-shaped pillars, carved with images of animals, humans and geometric forms. Andrew Collins, who has been studying the Proto-Neolithic world of SE Turkey for over twenty years now, and first visited Göbekli Tepe back in 2004, reveals its cosmic blueprint, showing that its oldest, womb-like enclosures are aligned to the opening of the Milky Rift's Dark Rift in the area of the Cygnus constellation. Afterwards, Andrew will show the significance of the discoveries being made at Göbekli Tepe to other key ancient monuments and sacred places of the ancient world, including the Great Pyramid, Baalbek, Karahunj stone circle complex in Armenia, and Stonehenge, where new evidence suggests that England's premiere ancient monument might be as old as Göbekli Tepe itself.
Andrew Collins is a historical writer and explorer living in the United Kingdom. He is the author of more than a dozen books that challenge the way we perceive the past. They include From the Ashes of Angels (1996), which establishes that the Watchers of the book of Enoch and the Annunaki of the Sumerian texts are the memory of a shamanic elite that catalyzed the Neolithic revolution in the Near East at the end of the last Ice Age; Gateway to Atlantis (2000), which pins down the source of Plato's Atlantis to the Caribbean island of Cuba and the Bahaman archipelago; and The Cygnus Mystery (2007), which shows that the constellation of Cygnus has been universally venerated as the place of first creation, and the entrance to the sky-world, since Paleolithic times. In 2008 Andrew and colleague Nigel Skinner Simpson discovered a previously unrecorded cave complex beneath the Pyramids of Giza, which has brought him worldwide acclaim. It is a story told in his book Beneath the Pyramids (2009). Andrew is collaborating with Megalithomania on a tour to Turkey and Lebanon in September 2013. Andrew forthcoming book Gobekli Tepe: Genesis of the Gods (2013) is to be published by Bear and Company. Download his 2006 talk here and the 2010 talk here. www.andrewcollins.com
---
MICHAEL GLICKMAN - John and the Michellettes

John Michell Memorial Lecture, hosted by Christine Rhone
Master, Giant, Avatar, Guru, Teacher or Father; It doesn't matter how you describe John Michell, his importance was overwhelming to all who regarded themselves as a disciple, student or child of his work. He was a staggering influence over us all and in this talk, Michael will focus on the achievements of a handful of people whose work could not have existed without the example set by John Michell.
Michael Glickman visited his first crop circle in 1990 after which he remarked that "he never got out". A former architect, inventor and teacher, Michael brings a wealth of practical experience to the crop circle subject. However, in his more than twenty years of involvement with the crop circles, he has also made a veritable art-form of the deconstruction of crop circle designs to better understand their symbolism and their geometric properties. As a result, his work on the geometry of the circles is respected throughout the crop circle research community worldwide. Often outspoken, sometimes controversial, but always with asharp wit, he is a renowned and inspirational speaker and writer; he has long occupied a central space at the heart of research into thisphenomenon.Michael has written
many
articles on the crop circles including key contributions to the once great Cereologist magazine. His book, Crop Circles (1996) is published by Wooden Books and is now in its third revised edition. He is also author of Cornography (2007) and most recently Crop Circles: The Bones of God (2009). He spoke at the first ever Megalithomania in 2006 about the spatial relationship between megaliths & crop formations, and his talk can be downloaded here. This website is the latest incarnation of his work that will bring his informed comment to the global community of the world-wide-web: www.michaelglickmanoncropcircles.com
---
ROSS HAMILTON (from the US) - Mounds, Giants & Star-Lore of the Ohio Valley


Born in 1948 on Long Island, New York, Ross Hamilton has lived in the greater Cincinnati, Ohio area since the age
of seven. Fascinated by American Indian history from childhood, Hamilton has devoted his life to bringing to light the lost history of the North American continent. He has worked with activist Vine Deloria Jr., the formerexecutive director of the
National Congress of American Indians; Floyd "Red Crow" Westerman; and Iroquois chief Jake Swamp. He frequently gives interviews on the subject of the Serpent Mound, giant skeleton discoveries and the implications that an advanced culture flourished
in this area many thousands of years ago. He has written three self-published books on a giant race that has been deliberately suppressed from American history and traces a detailed history of who these incredible people were. He has recently been on the History Channel show Ancient Aliens and spoke at Megalithomania USA in October 2011. His latest book Star Mounds was published in 2011. NOTE: His lecture will be via Skype with full multi-media graphics.

---
MARIA WHEATLEY - Megalithic Power and Serpent Energies


The megalithic architectures of stone circles and temple complexes worldwide skilfully incorporated several distinctive types of earth energies into their foundation plans. Imbuing the site with unseen power, our investigations reveal that earth energies and their manifest patterns, dramatically change the ionic ratios in their immediate vicinity, alter background radiation levels and can influence our consciousness. Our research shows that some megalithic structures, especially dolmens, push energy away from the site as if irrigating the land and remarkably standing stones can change our weight in minutes. We will take a new look at Avebury, Silbury Hill, the Codford Circle, Neolithic roads, dolmens and the Rollright Ring to understand the hidden force emitted by the Earth and dispersed by stone and earth.
Maria Wheatley is a writer, dowser and researcher of earth mysteries specializing in the geodetic system of earth energies and ley lines. She organizes regular tours of sacred sites and medieval churches and cathedrals in the South West of England to locate and interact with the monument's hidden energies. Her late father was considered a Master Dowser. For the past ten years Maria has continued researching the many ways in which our prehistoric ancestors harnessed and utilized the Earth Force. Her thought-provoking explanation of how ley lines originally channelled light into megalithic temples, and how standing stones sited upon certain circular patterns of earth energy absorb and transmit the Earth Force challenges our perception of ancient sites. Maria has studied Landscape Archaeology at the University of Bath in Swindon, has written holistic diploma courses forthe British
School of Yoga,teaches reflexology, dowsing and past life regression for Swindon College and is co-author of Avebury: Sun, Moon and Earth a popular book which reveals the many ley's and earth energies which were skilfully integrated into the megalithic architecture of Avebury Henge, a gigantic megalithic power centre in Wiltshire, which we will be exploring with Maria on the Monday tour. She has appeared on the History Channel, BBC radio and has lectured for the British Society of Dowsers, and she regularly gives talks and presentations for dowsing and spiritual groups in the UK. Maria has also written numerous articles and hosted a Megalithomania tour in 2010. www.theaveburyexperience.co.uk
---
HUGH NEWMAN - Marbles of the Gods: The Megalithic Spheres of Costa Rica


Hugh Newman is an author, conference organiser, world explorer, tour host, and one half of Pentos Television. As an author he has researched the Indigo child phenomenon and published a book on the subject. His most recent
book, Earth Grids has been published by Wooden Books. He has released numerous DVDs of his multi-media presentations. He has articles published in The Leyhunter, Mindscape Magazine, World Explorer Magazine, The Circular, The Spiral, The Heretic, New Dawn (Australia) and numerous other publications. As well as organising the Megalithomania conferences, he has spoken at events in the UK, Malta, France, Peru, Egypt, Bosnia and North America. He has appeared on BBC TV, Sky Channel 200, Bosnian TV and the History Channel in the last three seasons of Ancient Aliens. He is currently writing a book about the Wandlebury complex near Cambridge. His next adventure is a research trip & tour to Megalithic Mexico with David Hatcher Childress in March 2013. See here for info. He recently visited Costa Rica in search of the strange, megalithic stone balls found all across the country. See his full profile, other DVDs and interviews here
---
GARY BILTCLIFFE - The Etruscan Legacy and Megalithic Achievements of Italy


During a holiday in Italy Gary discovered that certain hilltop towns and villages have in their outer walls cyclopean and polygonal stones reminiscent of those found in Peru and Egypt. They are often difficult to find, off the beaten track, partially hidden behind undergrowth and labelled as Roman or Etruscan. Although ignored by archaeologists and historians, there is evidence that these ancient walls were built by a highly advanced prehistoric culture that existed thousands of years before the Romans.
Gary was born in 1960 and brought up in Lancashire. He has dedicated the last 30 years to historical research andinvestigation of earth mysteries, dowsing ancient sites, uncovering lost knowledge and early folklore. From an early age, his fascination with the esoteric was inspired by numerous real-life paranormal experiences. He has appeared on
radio and television and has lectured widely in the UK and North America. Gary has also led International groups around Britain's sacred sites and written articles for journals and magazines. He moved to Dorset in 1993 and his research of the county's ancient history culminated in his first publication The Spirit of Portland, Revelations of a Sacred Isle in 2009. He spoke at Megalithomania 2010 about the 'Belinus Line' - Get the DVD or Download here, and has recently published a book of the same title. www.belinusline.com

---
GLENN & CAMERON BROUGHTON - Ancient Mysteries for Modern Times


Sacred sites around the world were constructed by our ancestors who had a different world view and knowledge base compared to ours. By paying attention to the sites that we have inherited we can gain access to some of the wisdom of the ancients held within the stones. Looking at the findings of his own research and that of others Glenn will draw together some strands to show that the 'ancients' have bequeathed us invaluable knowledge that can transform our present world if we were to learn to apply it. Glenn will illustrate his inspiring talk with slides of various sacred sites and will present an exciting potential future for the world.
Glenn Broughton has been consciously visiting sacred sites for over twenty years and has been leading tours to visit them since 1996. He has researched the hidden qualities behind the facade of the ancient temples by looking at them as energetic phenomena. Glenn has been the keynote speaker at the national conventions of both the American and Canadian Societies of Dowsers and presents at conferences on both sides of the Atlantic every year. He was co-founder of Earth Spirit Conferences, has set up several Fountain groups and led numerous workshops on a variety of Earth Mysteries subjects. With his partner Cameron, they coordinated last year's 'Megalithic Cornwall' Tour for Megalithomania and spoke at the 2009 conference, plus the US conference in October 2011. We have teamed up with them again for a comprehensive tour around 'Megalithic Ireland' in August 2013. www.journeyswithsoul.com

---


HARRIET VERED & MICK HARPER - The Megalithic Empire

Nobody knows how long distance trade was carried out in Ancient Britain in the absence of literate devices such as maps and signposts, though it is known from the archaeology that everything from stone axes to bronze cauldons was moved around on a huge scale. 'The Megalithic Empire' was an ingenious navigational system of megalithic structures connected by visual sightings aka leylines. The organisation responsible for the upkeep of this network is shown to have operated not only in the pre-literate era of the Late Neolithic, Bronze and Iron Ages but again, using more advanced techniques, in the Dark Ages when literacy was once again at a premium. New light is thrown on hitherto shadowy groups such as the Druids, the Phoenicians and the Celtic saints.
Mick Harper's first book, The History of Britain Revealed, was considered by John Michell to be the most outrageous book he had ever read and it was Michell's work and encouragement that led to The Megalithic Empire. Harriet Vered's background in languages and anthropology together with her sojourns in Catalonia, Switzerland, Israel and the Berkshire Downs underpins her great expertise not only with Megalithia but in the historical background in general. www.themegalithicempire.com

---
PAUL D.BURLEY - From Stone Circles to Higgs Boson: Implications of Sacred Spherical Geometry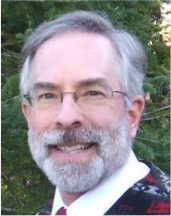 In 2003 Paul Burley encountered a prehistoric native American medicine wheel at an elevation of over 10,500 ft in the mountains of Wyoming. A professional engineer and environmental geologist with over 25 years experience investigating the history of human impacts on the natural environment, Paul has researched sacred symbolism expressed by prehistoric and historic cultural traditions around the world. His research led to discovering that the medicine wheel in Wyoming was, and remains, an integral part of the largest stone circle on earth – 550 miles in diameter. His further research led to the startling finding that all sacred circular structures –ranging from design of the original ark of the Great Flood described in the Sumerian Epic of Gilgamesh to mandalas of eastern philosophy, from the sacred hoop of native America to megalithic Stonehenge on Salisbury Plain - are, in fact, two dimensional facets of a unique spherical geometry derived from a specific pattern of nine great circles. This unique sacred geometrical configuration is common to virtually all cultures around the world and throughout time. Shamans have depicted the geometry in artworks over tens of thousands of years. Results of Paul's research suggest strongly that the same geometry may reflect the shape of the universe itself. And now discovery of this geometry inherent in the Higgs boson may confirm that the Sacred Sphere is the fundamental geometry of energy itself. This would represent the first intersection of science and the sacred – a universal understanding of who we are, and why we are here. Paul's book, The Sacred Sphere: Exploring Sacred Concepts and Cosmic Consciousness through Universal Symbolism (2012) is published by Beavers Pond Press. www.pauldburley.com
---
CLICK HERE BUY TICKETS FOR THE 2013 EVENT
SATURDAY 18 May


9.00 – Doors Open
9.45 – Introduction
10.00 - GARY BILTCLIFFE
11.am - Coffee Break
11.30 - MARIA WHEATLEY
12.30 - Lunch
2.00 - M.J. HARPER & H.L. VERED
3.00 - Break
3.15 - PAUL D. BURLEY
4.15 - Tea Break
4.45 - MICHAEL GLICKMAN
John Michell Memorial Lecture, hosted by Christine Rhone
5.45 – Dinner Break - Doors re-open at 7.15pm
7.30 - ROBERT SCHOCH Ph.D
9.00 - CLOSE

SUNDAY 19 May

9.00 – Introductions
9.30 - HUGH NEWMAN
10.30 - Coffee Break
10.45 - GLENN & CAMERON BROUGHTON
11.45 - Break
12.00 - EUAN MACKIE Ph.D
1.00 – Lunch
2.30 - ROSS HAMILTON (via Skype)
3.30- Tea Break
3.45 - ANDREW COLLINS
4.45 - Break
5.15 - SPEAKERS FORUM with Special Guests
6.15 – CLOSING ADDRESS
6.30 - CLOSE
7.30 - Bardic Trial Final (optional)

Monday Night Lecture with ROBERT SCHOCH (see poster on right)
---
MEGALITHOMANIA TOURS 2013
All Tours include Coach Journey, Entrance to Sites, Guidance with experienced Megalithomaniacs
and Geoff Stray driving the Bus!
Robert Schoch

will be co-hosting all the tours listed below.

Tuesday: Belas Knapp, Hetty Peglars Tump and the Rollright Stone Circle. A full day tour with Gary Biltcliffe, based upon his new book, The Spine of Albion. £50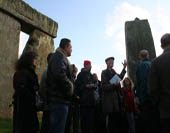 Wednesday: Glastonbury Walking Tour & Stonehenge private access. Morning tour with Anthony Thorley. After lunch we go to the area around Stonehenge where we meet Maria Wheatley, exploring Durrington Walls, Woodhenge, the Cursus and numerous mounds, before heading in to Stonehenge for our private one-hour access. £62 (or book seperately here)
Thursday: The Cerne Giant - Landscape and the Stargate. Peter Knight (author of the new book on the Giant) will lead us around this sacred Dorset landscape. We shall view the Iron Age Giant, and learn of its connection with the Stargate of Egyptian myths. The tour will also visit other local sites, such as a sacred spring, the abbey site, churches, isolated megaliths and wayside crosses. £50

---
CLICK HERE TO DOWNLOAD THE TALKS OR BUY DVDS
---