MEGALITHOMANIA GLASTONBURY CONFERENCE 2016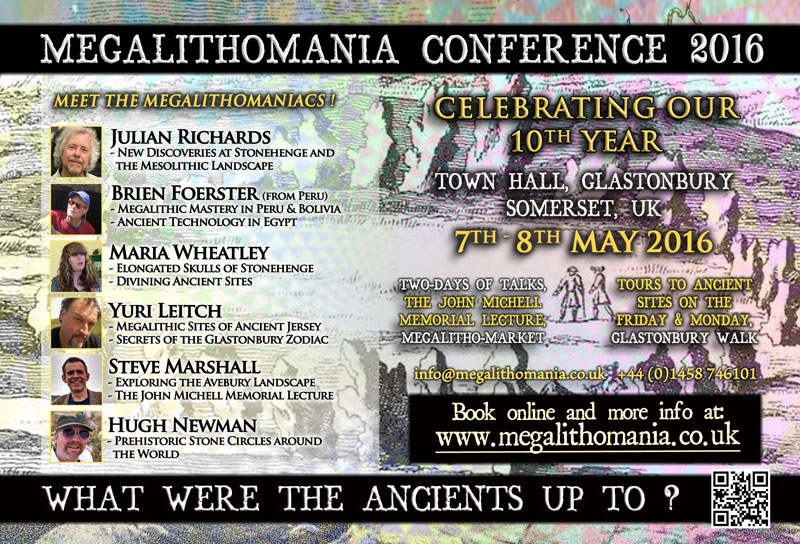 NEW VENUE, NEW FORMAT, OLD STONES!
Megalithomania returns on May 7th - 8th 2016 at the Town Hall, Glastonbury. We are now a two-day event, with megalithic tours on the Friday, Monday & Tuesday. Tickets are £85.00 + booking fee (tours are extra), or save £25 on the 'Everything' Ticket. More speakers to be confirmed shortly.

FRIDAY 6th MAY:
SACRED SITES AROUND GLASTONBURY
£25 inc entrance to Glastonbury Abbey and Chalice Well. 2.00 - 6.00pm. Meet in Glastonbury Town Hall Car Park. Walking tour to Chalice Well, Red & White Springs, Glastonbury Tor, The Egg Stone, Michael & Mary Lines, Glastonbury Abbey. £25 Includes entrance fees to Chalice Well & Abbey, with tour leader TBA.

MONDAY 9th MAY:
THE ANCIENT STONES AND TORS OF DARTMOOR
£45 inc coach. Lunch not included in price. Meet 9.15am in Glastonbury. Peter Knight will guide us through the sacred landscape of Dartmoor, with sites including Merrivale Stone rows, and nearby Megalith and stone circle. We will then walk up to Great Staple Tor nearby, to look at the simulacra, the rock outcrops, to view other tors, and look down at merrivale to see its landscape setting; lunch at Princetown (there are several cafes and a pub), and then come back north via the Shovel Down stone rows and nearby Kestor, with its simulacra and rock basins.

TUESDAY 10th MAY:


MEGALITHS & WATERWAYS OF AVEBURY AND ITS LANDSCAPE: 9.15am - 5.30pm.
£45 inc coach. Lunch not included in price. Meet 9.15am in Glastonbury. Maria Wheatley and Steve Marshall will guide us around Avebury Stone Circle, the Avenues, stone avenues, Silbury Hill and Devils Den. If we have time we will go to West Kennet Longbarrow. Maria will show us the hidden energies of the landscapw and Steve will give us insights and show us secrets of how the Avebury builders utilised water into the great design. We will get lunch at Avebury.
If you have an enquiry please email us at info@megalithomania.co.uk - Info: 01458 746101
IMPORTANT: If for any reason you cannot make it to the conference after purchasing a ticket, please be aware we cannot offer refunds,
but we will give you full access to the live-stream or post-conference videos to watch from the comfort of your own home, at no extra charge. PLEASE NOTE: The organisers reserve the right to change the programme, speakers, venue and schedule
CLICK HERE TO DOWNLOAD THE TALKS OR BUY DVDS
---