Is there a geometrical energy system that surrounds our planet? ... a super grid involving polyhedral forms, ley lines, earth energy currents and astronomical alignments? Prehistoric maps reveal that the ancients were surveying the Earth in the distant past and there is good evidence that our ancestors were up to something we have long forgotten. From ET flight-paths to anti-gravity, the grid has many astonishing claims attached to it. This book unravels the many theories to give an overview of this incredible subject.


Hugh in Tonga 2014


Hugh in Costa Rica


See Hugh's interviews & TV stuff here
including Ancient Aliens shows

"I am certainly impressed by the eclectic nature of the material and the skill with which you have integrated the often complex subjects to reveal the greater picture now unfolding"
Simon Peter Fuller: Author 'Rising out of Chaos'




Websites:
www.wandlebury.com
www.newhuman.co.uk
www.avalonrising.co.uk
www.megalithomania.co.uk
www.psychicchildren.co.uk


Online Articles:
2014: Gobekli Tepe/Peru - Ancient Origins ebook
2012: Olmec Origins - Graham Hancock Site
2011: Nuthampstead Zodiac - Facebook
2011: Megalithic Mexico - Blogger
2009: Cherry Hinton Kingship Stone - Blogger
2005: Monatomic Gold - www.newhuman.co.uk
2001: Wandlebury Crop Circles - Blogger
2014: Ancient Colombia - ancient-origins.net

WHO IS HUGH NEWMAN?
Hugh Newman is an author, conference organiser, world explorer, tour host, and Megalithomaniac. As an author he has researched the Indigo child phenomenon and published a book on the subject. His most recent book, Earth Grids has been published by Wooden Books. He has released numerous DVDs of his multi-media presentations (see below). He has articles published in The Leyhunter, Mindscape Magazine, World Explorer Magazine, The Circular, The Spiral, The Heretic, New Dawn (Australia) and numerous other publications. As well as organising the Megalithomania conferences, he has spoken at events in the UK, Malta, France, Peru, Egypt, Bosnia and North America. He has appeared on BBC TV, Sky Channel 200, Bosnian TV and the History Channel in the last three seasons of Ancient Aliens. He is currently writing a book about the Wandlebury complex near Cambridge. Read his personal blog here and his travel blog about 'Mounds, Megaliths & Giants of North America'.

2014 Schedule:
Ancient Alien Cruise Jan 9-13 2014, US/Mexico
Rainbow Serpent Festival - Australia, Jan 25-28
Higher Visions Lecture - Australia February 6th
Starseed Gardens - Byron Bay - Feb 8th
Earth Frequency Festival, Queensland Feb 14-17
Fredom for Stonehenge Conf, UK - May 16-18
Origins - Turkey Tour - May 26th - June 5th
Wonders of Wales Tour - June 18th - 29th 2014
England St.Michael Line Tour - July 12th-22nd
SGA Conference - South Africa, July 6th-7th
Green Gathering Festival - July 31-August 3
Etruscan Italy Tour - Sept 21st - Oct 2nd
CPAK Conference - October 17th-19th
Portals of Peru & Bolivia Tour - Oct 26 -Nov 6


Online Interviews and Talks:
Red Ice Creations: 2/10/08 Interview 1
Gardiners World: 2009 SKY TV Interview
Red Ice Creations: 2/5/10 Interview 2
The Cosmic Influence 5/3/09 Interview
Baglis TV - Brittany, France 2009 Talk
Project Camelot: 10/10/10 Interview
GoldRing on Blogtalk: 4/2/11 Intervciew
Coast to Coast AM: 18/2/11 Interview
X-Zone Radio, Canada: 14/4/11 Interview
Project Camelot: 2/5/11 - Interview
Occult Science Radio: 16/7/11 -Interview
Peter Tongue : 3/8/11 - Interview
Just Energy Radio - 7/10/11 - Interview
Matrix Radio: 2/1/12 - Interview
Just Energy Radio - 20/4/12 - Interview
Whistleblower Radio - 13/5/12 - Interview
Bob Charles Show - 27/1/13 - Interview
Santos Bonacci AFR - 26/3/13 -Interview
Red Ice Creations - 17/3/13 - Roundtable
Diana Garland Astrology- Feb 2014 Interview
Capricorn Radio - March 2014 - Roundtable
Grailean Report - March 2014 - Interview

DVD'S & VIDEO DOWNLOADS
---
HUGH NEWMAN
Megaliths and Earth Energies of Ancient South America
Hugh has been travelling across South America investigating megalithic sites and tracking the path of the famous Rainbow Serpent and Plumed Serpent global energy currents for several years. His recent trip to Peru, Bolivia and Colombia will be under the spotlight in this presentation. Gargantuan megalithic temples that pre-date the Inca exist in these countries that defy explanation and have legends that consistently relate to Virococha, or the 'Feathered Serpent', a god who was hugely influential in prehistoric times. He was said to be able to talk any language, summon thunder and levitate big blocks of stone. He introduced agriculture, metalwork and taught the arts of vegetarianism, art and good communication. Like the legends of Quetzalcoatl in Mexico, he arrived from the waters on a 'raft of serpents', but who were these 'serpent' gods? Where did they come from? Were they masters of working with earth energies? Hugh will give an overview of all the megalithic sites he visited, including the lesser-known San Augustin in Southern Colombia and the incredible underground complex of Chavin de Huanter in Central Peru. Filmed at Megalithomania 2012. Includes exclusive interview.
Hugh Newman DVD + Interview


75min - PAL (UK) or NTSC (US)




Video Download MP4




£3.99 - 60 + 15min - 305+73MB





Audio Download MP3


£2.49 - 60+15min - 41+10MB


---
Hugh Newman
BEFORE THE MAYA - The Olmecs, Quetzalcoatl and the Megalithic Origins of Central America +Interview
Hugh has recently travelled around Mexico, Guetamala, Hondurus and Belize in search of the pre-Mayan megalithic civilization that flourished as far back as 7000BC. Mexico is famous for its Mayan and Aztec architecture but Hugh has discovered evidence of much earlier cultures, that were of "megalithic" origin and were the inspiration behind the Mayan emergence. The Mayans have been credited with introducing a sophisticated calendar, agricultural practices and incredible stonework, but it is now thought that the 'Olmec' invented the Long Count calendar that ends in 2012 and taught the Maya much of what they knew, with influences spreading into the world of the Zapotec, Toltec, Mixtec and Aztec peoples. Hugh also explores the legend of the 'white god' Quetzelcoatl and gives an overview of the incredible Olmec civilization, who were thought to be African in origin and were part of a prehistoric cosmopolitan culture that travelled the world. Filmed at Megalithomania 2010
Hugh Newman DVD + Interview


83min - PAL (UK) or NTSC (US)

Audio Download:
Talk MP3
£2.49 - 83min - 88MB


---
DVD - Hugh Newman
THE WANDLEBURY ENIGMA: Earth Mysteries and Ancient Sites in Cambridgeshire and Essex
Although claimed to be an "Iron-age hill fort", Cambridgeshire's most prominent and important sacred site, the Wandlebury complex has all the traits of a major megalithic monument. Going south from the site it has a 21 mile 'Loxodrome' alignment that stretches to Hatfield Forest, marked by ancient megaliths, earth mounds and circular earthworks, that has been dated to 3,500BC. The famous 'Mary' earth energy current also goes through the site and over the Gogmagog hills and through fields where several crop circles have appeared. 'Wormwood Hill', a man-made mound near Wandlebury has many strange stories attached to it, from out-of-body experiences, to ghost sightings and UFOs. A chalk hill figure was rediscovered on the site in the 1950s by Tom Lethbridge and the 'Cambridge ley' also bisects the circular ring. Claims that Troy was based at Wandlebury and not in Turkey, has turned a few heads and archaeological discoveries seem to back this up. The Iceni tribes and possibly Queen Boudica herself frequented Wandlebury, so maybe it is now time to put this incredible sacred landscape firmly back on the historical map. www.wandlebury.com

Hugh Newman DVD


73min - PAL (UK) or NTSC (US)

Audio Download:
Talk MP3


£2.49 - 73min - 76MB


Soon Available







---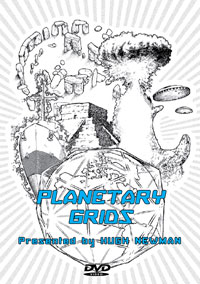 Hugh Newman
EARTH GRIDS - The Secret Patterns of Gaia's Sacred Sites + Interview Filmed at Stars & Stones Forum, Suffolk by 'Holistic Channel'
Is there a geometrical energy system that surrounds our planet? ... a super grid involving polyhedral forms, ley lines, earth energy currents, cymatics and archaeoastronomical alignments? Prehistoric maps reveal that the ancients were surveying the Earth in the distant past and there is good evidence that our ancestors were up to something we have long forgotten. From UFO flight-paths to anti-gravity and crop circles, the grid has many astonishing claims attached to it. Hugh has also found evidence in South America that the Michael and Mary energy lines are a global phenomenon and megalithic sites 'enhance' these natural energies for various purposes. This multi-media presentation unravels the many grid theories to give an overview of this incredible subject. Based on the book of the same name published by Wooden Books. Filmed at the Fountain Internation Conference in October 2009.
Hugh Newman DVD


63min - PAL (UK) or NTSC (US)

Audio Download:
Talk MP3
£2.49 - 63min - 61MB
Soon Available







---
Hugh Newman
STONE AGE SURVIVAL - Earth Energies, Crop Circles & Secrets of the Stones
Scientific research of crop circles has helped unlock how the ancients used earth mounds, big stones and magnetic earth energy currents to enhance seeds, promote fertility and re-mineralise their food. With dowsing, the ancients could even locate underground water, test for poisonous foods and locate magnetic and telluric lines of energy. Stone circles and dolmens acted at electrifiers to enhance seed quality and yield, and even helped keep us humans fertile, as many of the global legends state. There is new evidence that agriculture and civilization succeeded soon after the construction of megalithic sites & pyramids. Plus new research on how this could have been part of the earth grid will also come under the spotlight. Hugh will also be looking at sites from his recent trips to Peru, Malta and North America with evidence that this knowledge was a global post-flood phenomenon. Filmed at The Stars and Stones Forum, November 2007 by The Holistic Channel


Hugh Newman DVD


63min - PAL (UK) or NTSC (US)

Audio Download:
Talk MP3


£2.49 - 71min - 61MB


Soon Available







---

DVD - Hugh Newman
Megaliths of East Anglia
Hugh explored the megalithic sites, earthworks and leys in East Anglia from his forthcoming book 'The Wandlebury Enigma', also looking at the Nuthampstead landscape zodiac, the 'Loxodrome' and numerous newly discovered alignments. He explored megaliths, mounds, earthworks and the Michael and Mary earth energy lines that link to Avebury and Glastonbury in the west country as well as lost secrets in this unique part of England. There are also many ancient tracks and pilgrimage routes that were marked with stones and mounds. Filmed at Megalithomania Glastonbury 2011
Hugh Newman DVD:


PAL (UK) or NTSC (US) Format. 63min

Audio Download:
Lecture MP3
£2.49 - 63min










---

Hugh Newman - Double DVD
Disc 1: Before the Maya: Olmecs & Megalithic Origins
Disc 2: Earth Grids: Secret Patterns of Gaia's Sacred Sites
Hugh has recently travelled around Mexico, Guetamala, Hondurus and Belize in search of the pre-Mayan megalithic civilization that flourished as far back as 7000BC. The Mayans have been credited with introducing a sophisticated calendar, agricultural practices and incredible stonework, but it is now thought that the 'Olmec' invented the Long Count calendar that ends in 2012 and taught the Maya much of what they knew. Hugh also explores some new research about Earth Grids and the relationship between sacred sites all across the planet, including insights into the sites in South Africa and their relationship to ancient Egypt. Filmed at Megalithomania South Africa 2011
Double-DVD:
PAL (UK)/ NTSC (US) Format - 2 discs




Audio Download:
Before the Maya - MP3
£2.49 - 60min



Audio Download:
Earth Grids - MP3
£2.49 - 60min



---