Megalithic Mexico Tour - Save $350
March 8th - 20th 2013
Hosted by David Hatcher Childress & Hugh Newman
+Add-On to Chichen Itza to see shadow effect on Equinox

Join David Hatcher Childress and Hugh Newman for an incredible comprehensive trip through the Pre-Mayan world of Mexico, visiting all the major Olmec sites, plus Teotihuacan, Tula, Cholula, Cuilcuilco and ending in the beautiful jungle location of Palenque. David and Hugh have both starred in Ancient Aliens (History Channel) and have a unique view on ancient Megalithic Mexico.
For more info email us


SITES VISITED


Teotihuacan, Tula, Cuilcuilco,
Archaeology Museum, Cholula, Mitla, Monte Alban, Xalapa Museum, San Lorenzo, La Venta,
Tres Zapotes, Coatzalcoalcas,
Tepotzlan, Comalcalco,
Villahermosa Museum, Palenque,
Chacaltzingo, Chichen Itza, Uxmal + sites not on itinerary!

TOUR INCLUDES


* Airport Pick-Up
* Internal Flights/All Transport
* Entrance to Sites & Museums
* Breakfast & one Dinner
* Evenining Lectures & On-Site Discussions with David & Hugh


DOES NOT INCLUDE


* International Flights
* Lunch, Drinks and tips
JANUARY OFFER UNTIL 31st JAN 2012:


- Save $250 off total price

if you register by January 31st

+

get $100 cash-back

(see below)
- Plus receive

FREE MP4 lecture

by Hugh Newman - Before the Maya: The Olmecs, Quetzalcoatl & the Megalithic Origins of Mesoamerica.

(Filmed at Megalithomania)


- Plus FREE Megalithomania T-Shirt
- If you get a friend to come along, we'll give them the same offer, plus YOU will get $100 cash-back per-person for referring them, on top of all of the above, saving $350 US

Megalithic Mexico Tour


March 8th-20th 2013


$3699 double occupancy

(£2300)

Single supplement: $750

(£470)

Mexico Tour + Add-On


March 8th-22nd 2013


$4499 double occupancy

(£2800)

Single supplement: $900

(£550)
Praise for Peru 2012 Tour:
"Thanks Hugh! great trip for those that like alternative traveling and the deeper story to humanities history"- Jennifer Stein

Payment Details - By clicking a button, you will pay through PayPal, using a credit card or PayPal account. If you wish to pay by other means, please e-mail us. Payment through PayPal is safe and guaranteed with all the normal payment guarantees. On payment, you will be returned to the 'Megalithomania' website, and you'll receive immediate e-mail notification of receipt of payment. You will soon after receive an e-mail from us providing further details about your booking and the tour itinerary.


Itinerary: March 8th - 20th 2013

(Subject to change)

Day 1 - March 8th
Arrival in Mexico City. Taxi pick-up at the airport. Overnight Hotel Galeria Plaza.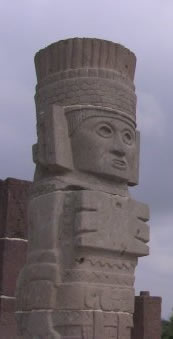 Mexico City is an amazing place to be located, whilst we visit some sites. It has had thousands of UFO sightings, discoveries made under its streets and still has an Aztec observatory in the subway station!

Day 2 - March 9th
Toltec complex of Tula and Pyramids of Teotihuacan
Tula is a fascinating temple with some megalithic construction, and the mighty Atlanteans presiding over the site, in the image of the 'Plumed Serpent' or Quetzalcoatl. The Atlanteans are 30ft tall statues that are surprisingly similar to the ones at Tiwanaku, Bolivia, plus they have similar head-dresses and they have that same look in their eyes. Zecharia Sitchin had noted that the archaeologists description of what they were holding in their hands was questionable. Officially described as knives and incense bags, Sitchin believed they may have been something quite different, an idea that was later picked up by Graham Hancock. They look more like metal devices or plasma-guns from a sci-fi movie. Sitchin believed they were used to quarry and cut rock, and Hancock backed this up when he remembered that in ancient legends they had armed themselves with 'Xiuhcoatl' or 'fire serpents'. These were said to emit burning rays capable of piercing and dismembering human bodies, and perhaps to cut, quarry and carve stone. The statues at Tiwanaku hold similar devices in their hands too. One of many comparisons to Virococha and ancient Peru that will be expanded upon as we pursue the ancient mysteries of Mexico. Tula could also possibly be the site of the legendary Tollan.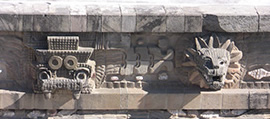 In the afternoon we visit massive Teotihuacan. This multi-pyramid site has been compared to Giza in size and style, and is unique in Mexico. It has Olmec influences, is aligned astronomically, has underground tunnels, and contains a another temple to the Plumed Serpent (pic on right). The complex is said to have been built around 200BC, but it could be much older. Overnight hotel Galeria Plaza

Day 3 - March 10th
Visit anthropological museum, historical centre with Templo Mayor, plus the circular pyramid of Cuilcuilco.

We will start our investigation in to the origins of the famous Mayan 'Long Count' Calendar, looking at many Olmec artifacts in the Anthropological museum that suggest they may have instigated the calendar in 3114BC (and ends on December 21st 2012). We will see several Olmec heads, the 'Aztec' sun stone and original Maya codices. Continue to visit the historic centre of Mexico City.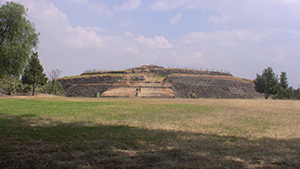 Continuation to visit Cuicuilco circular pyramid, a fascinating and unique structure, again with discoveries of Olmec artifacts at the site. Controversy over the age of this site has been ongoing that range from 100AD to 7,000 BC!. Archaeocryptographer Carl Munck believes it is an important marker on a grid of ancient sites across the planet. The site is also covered with an ancient lava flow and the subsequent dating of Cuilcuilco has made the site famous. The pyramid was first excavated by Mexican Archaeologist Manuel Gamio in 1917 and although the site is officially dated to around 100AD, the lava flow that covers much of the pyramid was dated to 5,000 BC. Back in 1923 National Geographic were the first to report on this incredibly ancient date. The author of the piece was archaeologist Byron Cummings, who became fascinated by the site because Geologist George E. Hyde estimated the age of the flow to be 7,000 years old at least, suggesting that the pyramid must have been even older than that. A strange blue light even appeared above the pyramid when they began to excavate it. Apparently the workers were delighted, thinking it must contain ancient Mayan treasure. None was said to be found, but its location on a seismic faullt line, may indicate its important placement and explain the strange light phenomena. Carbon dating of sediment on the paths around the pyramid, gave a date of around 2000BC, although the official date is around 100AD. Overnight at hotel Posada del Tepozteco, Tepoztlan, the birthplace of Quetzalcoatl, and the coolest town in Mexico.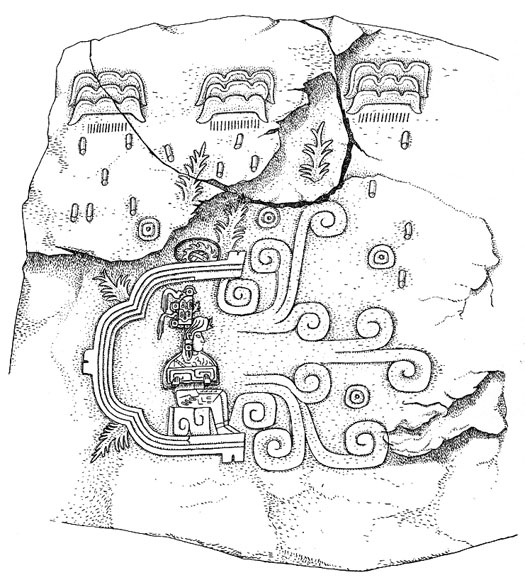 Day 4 - March 11th
Visit one the most important sites of the Olmec culture: Chacaltzingo, and drive to Tepotzlan.
Not too much to see here, but a are treat if we can find the rocks with incredible carvings on, featuring Olmec symbols and styles (pic on right). This is not on any other tours. Return to Tepotzlan and if time climb the Tepozteco - the birthplace of Quetzalcoatl. Today involves walking uphill, so we have the full day to explore. Overnight hotel Posada del Tepozteco, Tepoztlan.

Day 5 - March 12th
Chill out in Tepotzlan, Drive to Oaxaca
Rest and have fun in Tepotzlan. Even try some incredible Indian Curry - the best in Mexico. Drive to Oaxaca. Overnight at Hotel Casa Conzatti. (Tepoztlan – Oaxaca approx. 471 km / 5 – 6 hrs. driving time)

Day 6 - March 13th
Monte Alban, Tule and Mitla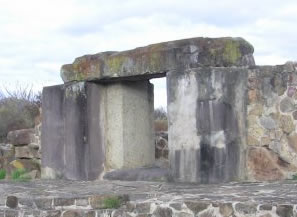 Morning visit to the Zapotec site of Monte Alban, known as the Zapotec capital. It has been rebuilt and reoccupied over the centuries from oficially 500BC. There is evidence of early use of the dot and bar calendars in some of the inscriptions, but it is the megalithic slabs in the southwest corner that cannot be missed. These slabs depict negroid and caucasion people and some of them were built into the 'corners' of later pyramids that can still be seen. On the central temple there were less well executed carvings that seemed to show the downfall of the Olmecs and/or the mysterious white bearded men. There are several large monoliths of unknown origin. Some are 30ft tall, whist others are stelea with interesting inscriptions. The tallest one was used as an astronomical instrument to help measure (with shadows) the changing of the year. a magnificent megalithic doorway with the largest stones at the site, sits un-noticed outside the car park. It is surrounded by other large stones and is a prime spot for viewing the valleys below. A unique Stonehenge-like trilithon at a Zapotec site, similar to Mitla.
Mitla has huge megalithic columns and a palace-like ambience, similar to Tiwanaku. The sheer size of some of the columns and lintels are beyond any Mayan, Zapotec, Toltec or any other kind of site I had ever seen (apart from Monte Alban). The incredibly intricate mozaics (some with swasticas/Hunab Ku symbolism) and stonework were those of master masons, who were obviously peaking at Mitla with their skill and ingenuity. Much of the stone was quarried from about 6 or 7 miles away and had to be transported over mountainous terrain. This site could also be a 'plumed serpent' energy line site that Robert Coon had mentioned goes through Mexico. Down the road leading to the site are several other megalithic trilithons. Questions obviously arise such as: Why use such large blocks of stone? How did they quarry and transport them? Was Quetzelcoatl involved?
We will also stop at the huge Sacred 'Tule' tree. Overnight at hotel Casa Conzatti.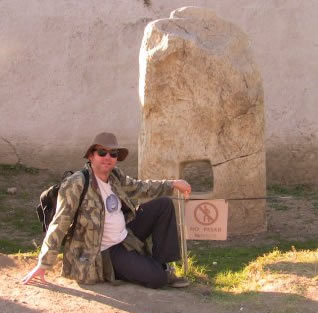 Day 7 - March 14th
Morning visit of Oaxaca city.
Afternoon drive to Puebla. Overnight hotel Camino Real. (Oaxaca – Puebla approx. 344 km / 4 hrs. driving time)

Day 8 - March 15th
Visit Cholula, the largest pyramid in the world
Visit the town of Puebla to visit Cholula, the largest pyramid in the world, with underground tunnels, again dedicated to Quetzalcoatl. Some of Cholula has been reconstructed and around its outskirts were several mysterious megaliths. One looks like an Olmec head (the Olmecs could well have built this place). There are two large megaliths, one with inscriptions and around the main entrance an enigmatic quartz-rich standing stone with a square hole cut out of it (pic on left)- A Mexican Men-an-Tol. We will also hear the story of Hernan Coetez's arrival at Cholula and how they discovered they were seen as 'the returning fair-skinned gods' (Quetzalcoatl), that opened the door for their gold-thirsty rampaging across Mexico. Drive to Xalapa. Overnight at hotel Villa las Margaritas Centro.
(Puebla - Xalapa approx. 182 km / 2 1/2 hrs. driving time)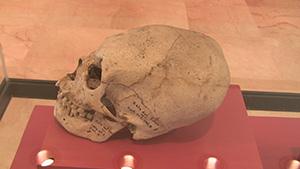 Day 9 - March 16th
Xalapa Museum, Santiago Tuxtla Museum and Tres Zapotes
Visit anthropological museum in Xalapa to see several Olmec heads, stelae, megaliths and elongated skulls (pic on right). Drive to Santiago Tuxtla and visit museum in Santiago Tuxtla where some incredible Olmec carvings that show clearly negroid features. We'll see two Olmec heads, including the only one with closed eyes, weighing in at 40 tons. We then take a 13 km drive to Tres Zapotes to visit the museum there, seeing more Olmec heads, evidence of acoustics, plus the stelea showing the controversioal 31BC Long Count date, indcating that the Olmec in fact invented the famous 'Mayan' Calendar. Return and continuation to Catemaco. Overnight Hotel la Finca. (Xalapa - Catemaco approx. 270 km / 4 hrs. driving time)

Day 10 - March 17th
Olmec capital San Lorenzo and La Venta pyramid site
Drive Catemaco – Acayucan – visit San Lorenzo Tenochtitlan, the ancient capitol of the Olmec, with a small museum with an Olmec head and several other fascinating carvings and megalithic oddities. We'll see here how sophisticated the stonework really is. Then we continue to the pyramid and megalith complex of La Venta (site), a fascinating tropical pyramid site, with the earliest pyramid in the America's (see pic below), underground mosaic floors, massive megalithic statues, Olmec heads and a powerful site of the Plumed Serpent energy current. Here, we will practice dowsing to locate the path of these energy currents. Continue to Villahermosa. Overnight hotel Hyatt Regency. (Catemaco - Villahermosa approx. 310 km / 3 1/2 hrs. driving time)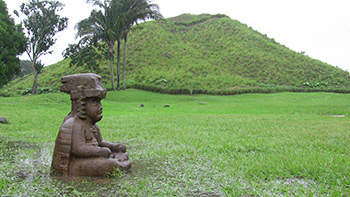 Day 11 - March 18th
La Venta Park, Villahermosa Museum and Comalcalco
Visit La Venta archaeological park, where several Olmec heads, altars and stelae are housed in a beautiful outdoor museum. These were saved from the La Venta site in the 1950's, and are an incredible collection. We will try to visit the Villahermosa museum, where a fragment of the Tortuguero stone is kept and several other artifacts (although it is curently under renovation). After lunch we drive to Comalcalco pyramid complex, where strange texts and writings are found on clay bricks, that appear to be from many different ancient cultures, where last year an inscription indicating the end of the Long count calendar (December 21st) was found. Continuation to Palenque. Overnight hotel Villa Mercedes. (Villahermosa – Comalcalco – Palenque approx. 270 km / 3 ½ hrs)

Day 12 - March 19th
Palenque pyramid site, Lord Pacal's Tomb Lid
Visit Palenque, a beautiful jungle location, with a look at the museum with Lord Pacal's tomb, a great leader in 6th Century said to be of extraordinary height. The great 'plumed serpent' energy current sweeps through this site and the ambience and power of this site is something we can enjoy for a good part of the day. In the afternoon drive to the airport in Villahermosa and fly back to Mexico City. Overnight hotel Galeria Plaza, or extra add-on (see below) where we fly from Villahermosa tonight to Mexico City, and be met by our local guide.

Day 13 - March 20th - Fly home from Mexico City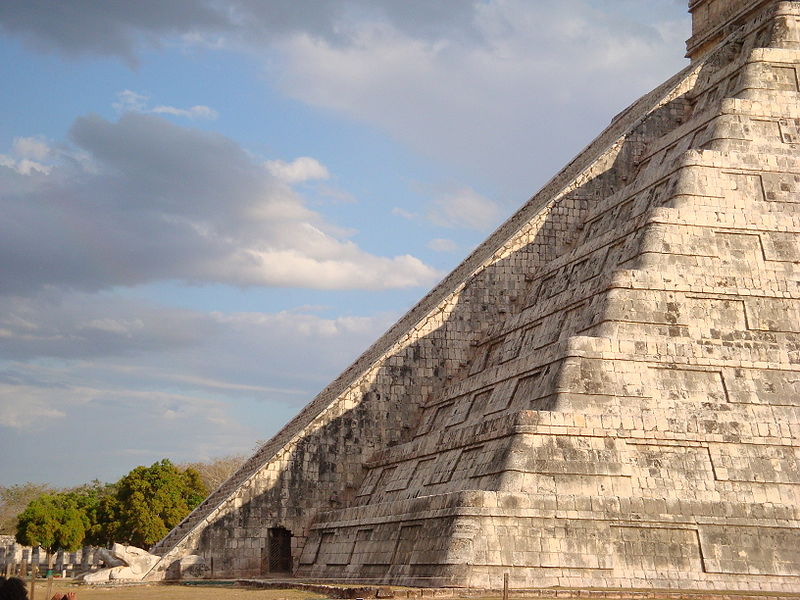 CHICHEN ITZA ADD-ON
8th -18th March - As above
19th March - Visit Palenque (as above) and in the afternoon drive to Villahermosa. Overnight in Villahermosa.
Day 1 - March 20th
Fly to Merida from Villahermosa. Meet at airport and excursion to Uxmal Pyramid site, where we will discuss the legends of the 'little people' who were said to have built the pyramid in one night. There are interesting mayan carvings and this site contains the only other know 'round-sided' pyramid. Return to Merida. Overnight hotel Hyatt Regency.

Day 2 - 21 Mar
Drive to Chichen Itza and visit this incredible multi-layered site. If possible witness the equinox effect in the afternoon, where the shadow of the steps creates a 'serpent' shadow that joins with the head at the base (see pic above). We will be with thousands of other visitors. We'll try to look around the site visiting the great Cenote, where thousands of priceless artifacts have been discovered (and sacrifices made), the huge ball-court with skulls carvings lining the court and the Temple of the Warriors, filled with columns. At around 6pm we return to Merida to the airport and evening flight to Mexico City. Overnight hotel Galeria Plaza.

Day 3 - 22 Mar
At leisure. Transfer to the airport and departure from Mexico for flight home. The tour ends!


Conditions:
1) All Paypal fees and international transfer costs must be taken care of by the buyer. These will be added on final payment.
2) Megalithomania cannot refund from 14 days before start of tour if you cancel.
3) Megalithomania will refund 50% if you cancel up until 15 days prior to the tour (this does not include deposit).
4) Megalithomania cannot refund deposits up to 60 days prior to tour. Before that we can refund only 50% deposit if you cancel.
5) Megalithomania cannot be held responsible for any injury, accident or stolen goods - please get travel insurance and relevant visas before booking this tour and have a passport with at least 3 months past the end date of the tour.
6) Full payment and passport details must be received by 14th Feb 2013
7) Roommates: We are happy to try to and match our guests with a suitable roommate for those who are traveling alone. If we are unable to do this, you will be responsible to pay for the single supplement. Early registration will facilitate this process. (Note: Itinerary may be subject to change if circumstances arise beyond reasonable control.)
8) Please email for further details - info@megalithomania.co.uk
9) January Discount T&Cs: $100 discount applies per-person you refer to the tour. They must confirm you refered them. $250 discount will be deducted before you make final payment and stands whether you come on the add-on or not. Please tell us which size T-shirt you require & an email address to send you the MP$ link so you can download it to your computer.