We are now planning the 2015 Megalithomania Conference in Glastonbury, UK (after a much needed year off!). It will take place on the weekend of 9th-10th May, but we are contemplating moving the event to Glastonbury Town Hall. As you may have attended the conference over the years, would you please respond to this email (info@megalithomania.co.uk) and briefly answer these questions:

1) Would you like to see us move to the Town Hall, or rather stay in the Assembly Rooms? and why?
2) Would you prefer a one-day conference, rather than our usual two-day event?
3) Where would you like to do day-tours to, on the Monday after the conference?
4) Are there any speakers you would really like to see at the conference?
Thank you. Any response would be highly appreciated.
I am currently writing a series of articles for the 'Ancient Origins' website about the secrets of the megalithic quarries. The first one is about Gobekli Tepe, and the second one looks at a new 1000 ton block that has been discovered in the quarry at Baalbek. My latest article looks at 10,500 year-old Karahan Tepe, that is the sister site to Gobekli Tepe. There are several more articles coming soon, so keep an eye on www.ancient-origins.net. Also, if you are anywhere near Chepstow, Wales this coming weekend a great line-up of speaker will be presenting in the 'Earth Energies' area, organised by Avalon Rising, including speakers Greg Sams, Hugh Newman, Lucy Wyatt, Serena Roney-Dougal, Richard Creightmore, Julie Rocka and more. The Green Gathering is the festival and is on a beautiful site overlooking the Severn Bridge. See full line-up here.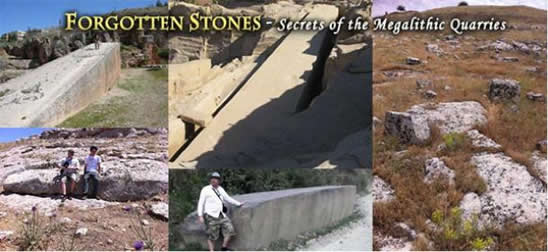 I've edited two more short videos about the megalithic quarries at Gobekli Tepe and Karahan Tepe that were filmed on our recent tour to Turkey. I've edited two more short videos about the megalithic quarries at Gobekli Tepe and Karahan Tepe that were filmed on our recent tour to Turkey.
See full details of the upcoming tour to both these sites here: www.megalithomania.co.uk/edentour2014.html
Andrew Collins and I are also proud to announce the ancient mysteries event of the year - the Origins 2014 conference to be held in London on Saturday, November 15th and Sunday, November 16th. The Saturday conference will feature presentations from Professor Irving Finkel ("The Ark Before Noah"), Robert Temple (The Sirius Mystery Revisted), Brien Foerster via Skype from Peru (The Mystery of the Long Headed Elites, and the latest DNA Evidence on the Paracas Skulls), Manjir Samanta Laughton ("Black Holes and the Origins of Civilization"), Hugh Newman ("The Megalithic Giants: The Lost History of a Forgotten Race"), and Andrew Collins ("Rise of the Human Hybrids and the Mysteries of Göbekli's sister site, Karahan Tepe"). Venue is, as for Origins 2013, Steiner House, London NW1. Basic tickets are £48, plus there is an optional London Walkabout around the British Museum on the Sunday. For all details and to register immediately:
www.andrewcollins.com/page/conference/origins2014.htm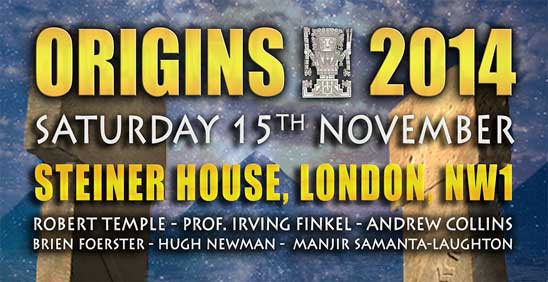 Anyway, we look forward to seeing you fellow Megalithomaniacs on one of our expeditions this year and wish you all well.

Hugh Newman - Megalithomaniac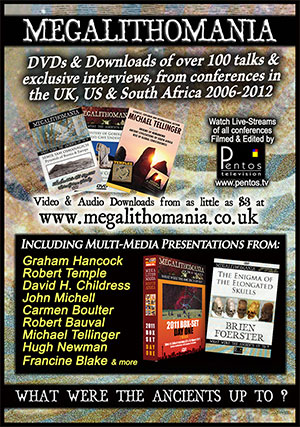 Click here to buy DVDs and Downloads of
multi-media talks from:
GRAHAM HANCOCK
ROBERT BAUVAL
DAVID. H CHILDRESS
CARMEN BOULTER
ANDREW COLLINS
ROBERT TEMPLE
MICHAEL TELLINGER
ANTOINE GIGAL
KLAUS DONA
HUGH NEWMAN
FRANCINE BLAKE
JOHN MAJOR JENKINS
SEMIR OSMANAGICH
BRIEN FOERSTER
MICHAEL CREMO
BETHE HAGENS
GLENN KREISBERG
WALTER CRUTTENDEN

& many more.
All filmed at Megalithomania...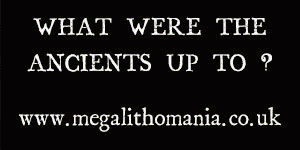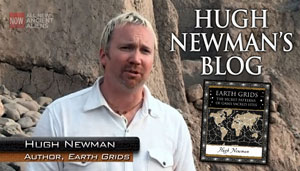 Plus see Hugh's web-page here
CONFERENCE REVIEWS:
"So was Megaltihomania worth the trip? Too right it was! Once again Hugh and his crew gave us a weekend of education, re-evaluation and entertainment"
more reviews
TOUR REVIEWS:
"Thanks Hugh! great trip for those that like alternative traveling and the deeper story to humanities history"- Jennifer Stein
more reviews & upcoming tours