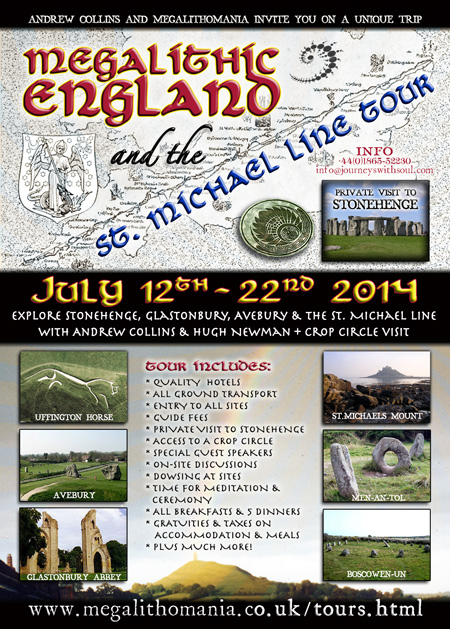 Megalithic England and the
St Michael Line Tour
July 12th - 22nd 2014
(11 days)
Explore Stonehenge, Glastonbury, Avebury and Britain's St Michael Ley-line with Andrew Collins and Hugh Newman, with guest speaker Gary Biltcliffe, author of 'The Spine of Albion'
11 Days: Stonehenge - Avebury - West Kennet long barrow - Silbury Hill - Uffington White Horse - Waylands Smithy Long Barrow - Glastonbury Tor - Wearyall Hill - Glastonbury Abbey - Chalice Well - Brent Tor - White Ladies waterfall, Lydford - Hurlers stone circles - Cheesewring - Boscowen-un - St Michael's Mount - Merry Maidens stone circle - Men an Tol - includes private access to Stonehenge, visit to crop formation, all travel, board, breakfasts and most dinners (Pick-up from Heathrow Airport)
The St Michael Line is England's spiritual backbone, its longest ley (that is, ley line) running from the Norfolk coastline in the northeast to the edge of Cornwall in the southwest. It gains its name from the holy hills and churches along its dead straight course dedicated to the archangel Michael. Along its course are some of the country's most well known sacred places including the White Horse of Uffington, Wayland Smithy long barrow, Avebury stone circle complex, Silbury Hill, West Kennet long barrow, Glastonbury, with its abbey, tor and holy well; Brent Tor's church of St Michael, the Cheesewring and Hurlers triple stone circle on Exmoor, St Michael's Mount, and finishing at the Merry Maidens stone circle. Journeying along the Michael Line is a pilgrimage to some and a psychic quest to others. The achievement of each stage on the journey brings with it a spiritual insight, a moment of enlightenment that culminates with a Grail like experience that is transformatory in its implications. This is something that all members of the tour will have a chance to experience and achieve. In addition to the incredible journey along the Michael Line the tour diverts to take in an early morning, private viewing of Stonehenge and a visit to a crop circle in the area of Marlborough or Avebury. There will be a chance to relax and recharge your batteries in Glastonbury and also at the end of the trip in the tranquil landscape of West Penwith in Cornwall, when guests will get a chance to see the Men an Tol megalithic structure and other sites in the area.

Tour Costs:
Main Tour £2195 UK / $3732 US based on double occupancy
Single occupancy supplement: £445 - Tour deposit: £450
Please email info@journeyswithsoul.com
for more info, or any queries

Click here to pay £450 deposit to confirm your place. You will be directed to 'Journeys with Soul' to place your secure payment via paypal or credit card
(This will be converted to your countries currency)

Itinerary: July 2014 - subject to change
Day 1 - July 12th
Collection from London Heathrow & transfer to hotel. First night in hotel in Marlborough, one of Wiltshire's most beautiful towns. Orientation meeting before dinner.

Day 2 - July 13th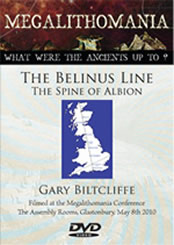 Visit to Uffington White Horse, Dragon Hill & Uffington church, with guest Gary Biltcliffe author the "Spine of Albion", a popular presenter at Megalithomania (see his 'The Belinus Line' DVD/download available here). Lunch, then visit Waylands Smithy long barrow, constructed around 3500 BC, an atmospheric megalithic tomb set within a copse of trees. If possible there will be a visit to a crop formation in the Marlborough or Avebury area. To Marlborough Hotel for evening.
Day 3 - July 14th
Early morning private visit to Stonehenge, England's premiere megalithic monument, constructed 5,000 years ago on a site of a much older Mesolithic sacred place dating to 8000 BC. We have arranged for the group to have private special access into the stones of the world's most famous sacred site. Touch the huge megaliths which have stood in magnificent isolation on the windswept Salisbury Plain for thousands of years, feel the pulse of powerful earth energy currents coursing beneath your feet, imagine the ceremonies which have been performed by robed priests over aeons of time or just sit in quiet meditation. This is a rare opportunity to truly experience a site revered by countless generations. Back to hotel for breakfast.

Avebury (above) is the heart centre of megalithic Britain. Here, within the largest stone circle in Britain, we find the remains of two former stone circles, one solar and one lunar. Two megalithic avenues also once led off in two directions, which only some of the stones remain. We will visit one end of one of the avenues, now called The Sanctuary, that has several tumuli next to it. This remarkable landscape temple is positioned halfway along the famous St Michael line that runs for 350 miles from coast to coast. All the sacred sites in this area centre on Avebury, including Stonehenge some twenty miles distant. the powerful Mary & Michael earth energy currents course through this landscape and this may be one reason why the majority of crop circles occur within a 10-mile radius of Avebury.

Day 4 - July 15th
Other ancient sacred sites within the Avebury Landscape Temple include the remarkable five thousand year old manmade Silbury Hill and West Kennet long barrow the site of many UFO encounters and sightings, built by our megalithic ancestors 5,500 years ago, which has amazing acoustics. We will spend the morning visiting both these sites.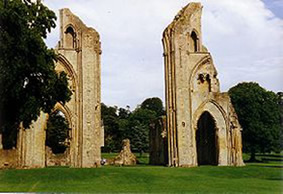 Drive to Glastonbury, Celtic Britain's Ynys Wittrim, the Glass Island, an otherworldly realm connected with Arthur, Merlin and Joseph of Arimathea journey to Britain. Visit the 1,500 year old ruins of Glastonbury Abbey.

Day 5 - July 16th
We will spend the whole of this day in Glastonbury, otherwise known as the Isle of Avalon. Rising dramatically from the flat land of the surrounding Somerset Levels, the huge man-shaped mound of the Tor, surmounted by St. Michael's tower, has been a beacon of spirituality since pagan times and still acts as a magnet for people of all beliefs. You will hear the stories and the legends as well as experience the powerful energy and atmosphere of this sacred site that the Michael and Mary energy lines engulf. Plus the views from the top are spectacular! We visit the beautiful and tranquil gardens of Chalice Well, that has underground megalithic construction, suggesting its prehistoric use. It is one of the true healing places in this land where you are encouraged to drink from the holy well. A local legend states that the Holy Grail is hidden within the wellhead.

Day 6 - July 17th
Transfer to hotel at Two Bridges, on the enigmatic Dartmoor (for 2 nights). Visit the Nine Maidens stone circle, a small structure that once had a cairn inside it, but has obviously been looted. It once contained many more stones.
Day 7 - July 18th
Visit the beautiful Lydford Gorge with its White Ladies waterfall, and climb Brent Tor to reach its wide-swept church of St Michael. Second night in Two Bridges Hotel.
Day 8 - July 19th
In morning drive to West Penwith with a stop for lunch at Minions and visit Bodmin Moor to experience the Hurlers stone circles & the Cheesewring. There is a node point of the Mary and Michael currents at one of the three stone circles of the Hurlers. A short walk away across the open moor is the remarkable pile of massive stones known as the Cheesewring. Are they a product of natural weathering or was some superhuman power employed to place the enormous rocks on top of one another?
Day 9 - July 20th
Visit to St Michael's Mount, said to have been built by giants. We will go round into the private gardens on the eastern side where the Michael & Mary and Apollo & Athens lines all cross at a single node point. Like Glastonbury Tor, this prominent natural hill must have acted as a beacon to spiritual pilgrims for millennia. We then visit the exquisite Boscawen-un stone circle, and finish the St Michael line pilgrimage at the Merry Maidens stone circle. This is a beautiful small circle much beloved by locals. This circle is connected to the Michael energy current by a smaller energetic tributary. Close by is the Pipers menhir.
Day 10 - July 21st
Second day in West Penwith visiting a holy well, the Men-an-tol megalithic monument, which has long had a reputation for offering healing to those who crawl through the doughnut-shaped stone. With a standing stone placed either side of the holed stone its uncertain if there were originally other stones present. We will then spend a little down time in Penzance, one of Cornwall's most beautiful towns.
Day 11 - July 22nd
All day drive to London Heathrow for evening flights or hotel if required (at own cost). Tour ends.
Price includes
- All transportation
- Private access to Stonehenge
- All bus travel and accommodation
- English-speaking guides
- Entrances to sites and museums
- All VAT and local taxes
- All Breakfasts
- Lunches & Dinners as stated in itinerary (L,D)

Price does not include
- Visas
- Tips and items of personal nature
- Any meals or activities not included in the programme
- International Flights

The Sun and the Serpent
Paul Broadhurst and Hamish Miller's classic The Sun and the Serpent, which details the authors' own quest of discovery down the Michael line using dowsing and other intuitive means of investigation is well worth a read. The book shows that in addition to the Michael Line, another energy line they call the Mary Line interweaves the original line from its start at Hopton-on-Sea in Norfolk, all the way down to the tip of Cornwall.
The Megalithomania - Megalithic England & the St.Michael Line tour is co-organised with 'Journeys with Soul', who have been instrumental in designing this unique tour. All payments and queries are dealt with by them and they can be contacted here: info@journeyswithsoul.com
Photo credit: Martin Gray - www.sacredsites.com and Wikipedia Commons, plus Hugh Newman's archive. Copyright H.Newman 2014
Tour Costs:
Main Tour £2195 UK / $3732 US based on double occupancy
Single occupancy supplement: £445 - Tour deposit: £450
Please email info@journeyswithsoul.com
for more info, or any queries

Click here to pay £450 deposit to confirm your place. You will be directed to 'Journeys with Soul' to place your secure payment via paypal or credit card
(This will be converted to your countries currency)