The Annual Megalithomania Grand Tour to South America
PERU, BOLIVIA & EASTER ISLAND TOUR
MEGALITHIC TECHNOLOGIES ON THE PATH OF VIRACOCHA
NOVEMBER 14th - 26th 2018 / NOV 26th - 30th 2018
There will only be 25 spaces for this exclusive tour! Currently 23 spaces are still available.
CLICK HERE FOR MORE DETAILS & TO BOOK YOUR PLACE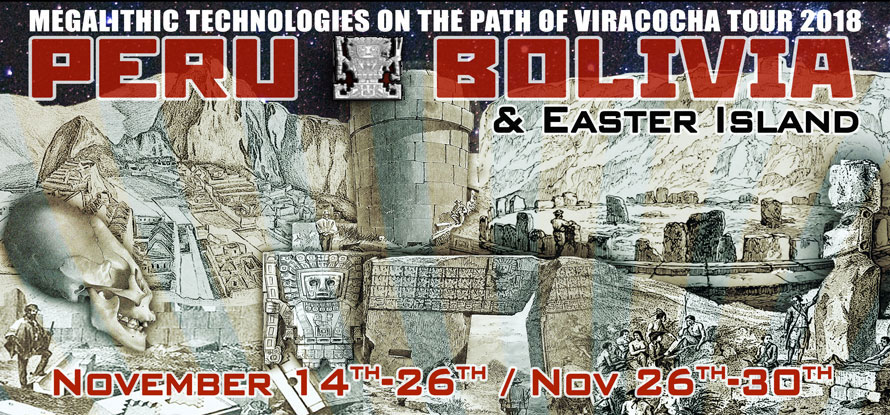 ANCIENT PERU GRAND TOUR



Stop Press: This tour is now full


10

th

- 20

th

November 2011
with DAVID HATCHER CHILDRESS
and Special Guests

Includes 11/11/11 Ceremony with Inca Shaman
at Lake Titicaca & much more.
Join stars of Ancient Aliens (History Channel), DAVID HATCHER CHILDRESS , BRIEN FOERSTER & HUGH NEWMAN on an once in a lifetime expedition around the ancient megalithic temples of pre-Incan Peru and Bolivia. On our first full day we will also be participating in a traditional Incan ceremony on the auspicious date of 11/11/11 at the 'Star Gate' of Amaru Muru next to Lake Titicaca. It will be led by an Andean Shaman. We will visit the Island of the Sun where the great Rainbow Serpent & Plumed Serpent energy currents meet and are marked by an incredible Frog effigy and Dolmen (see Hugh's Stone Age Survival DVD for info on this below).
We will go to the incredible Sun Gate at Tiwanaku and visit the even older site of Puma Punka whilst in Bolivia, before exploring the city of Cuzco and the incredible 'polygonal' site of Sachsayhuaman in the highlands of Peru. Our tour will finish off with a unique train ride and exploration of the mountain city of Machu Picchu. There is much more than this, so check out the full schedule further below.
There is also a 4-day extension to visit the famous Nazca Lines and strange animal effigies, as well as the Paracas Trident and other ancient sites along the west coast of Peru. In the meantime check out these relevant DVDs that are produced by Megalithomania....
Get David Hatcher Childress's 'Lost Cities of South America & the Pacific' DVD here.
Get Hugh Newman's 'Stone Age Survival' DVD here for a special limited edition price.

NOTE:
- ARRIVAL DAY - 9th November in LIMA, 10th November we fly to Juliaca
- DEPARTURE DAY - 20th November (or 24th November if staying for the extra days)
THIS TOUR IS NOW FULL

, BUT WE SHALL BE DOING ANOTHER ONE IN NOVEMBER 2012 WITH A SPECIAL GUEST

The cost of the tour is $2399 US Dollars (around £1499 UK Pounds) - See full set of options at bottom of page.

Includes: Guides, bus rides, pick up at the airport, access to all the listed sites, train rides, hotel room, ride to the airport, breakfasts, tickets to archaeological sites,

Note: Lunch & dinners are not included, but veggie options will be available and it is very reasonably priced.
NOTE:International flights or travel to Peru not included- $300 US Dollars deposit required to reserve your place.

Single occupancy - extra $250

. Please contact us for info and for details of how to pay full amount: info@megalithomania.co.uk
Full Tour Itinerary - Peru & Bolivia

Nov 9th: Arrive in Lima, then transfer to hotel (hotel not included in price)

Nov 10th: Leave Lima early and arrive at Juliaca (Puno) airport. Go to hotel.

11th: Amaru Muru (Portal) and Sillustani: Amaru Muru is called a stargate by some people. It has been made famous by the Peruvian Shaman Jorge Luis Delgado, and also Jerry Wills. This is where we will carry out the 11/11/11 ceremony with an Andean Shaman. There is also a tunnel behind itsaid to go to Cuzco, a distance of more than 400 km. Sillustani is famous for it's round towers called Chullpas, some of which are thousands of years older than the Inca and are polygonal design. There is also remnants of a possible stone circle!

12th: Island Of The Sun at Lake Titicaca: Puno to Copacabana, Bolivia, round trip ferry ride to Island of the Sun. The Island of the Sun is reputed to have possibly been the homeland of the Inca. There are stone ruins at the north end of the island where the Rainbow Serpent energy line meets the Plumed Serpent line.

13th: Tiwanaku and Puma Punku: Drive from Puno to the border and cross into Bolivia. Both Tiwanaku and Puma Punku are located at the same place. Tiwanaku is most probably the home of the Inca, and Puma Punku is much older and more mysterious. It is at the latter that we see evidence of ancient machining of stone. We will also visit the on-site museum.

14th: Bus to Cuzco: This trip takes on average 7 hours through beautiful mountainous countryside.

15th: City tour of Inca Cuzco: A walking tour of the Inca buildings in Cuzco, which include the Coricancha, and walls of the palace of Inca Roca. This tour will take approximately 4 hours, so there will be lots of time for shopping for clothes, arts and crafts.

16th: Tambo Machay, Puca Puccara, Amaru Machay, Temple Of The Monkeys and Sachsayhuaman: These stone megaliths clearly predate Inca times, but were adopted and used by the Inca.

17th: Sacred Valley: Pisaq, Moray, and Chinchero: Pisaq is a large site, used by the Inca and located on top of a mountain; in some ways it resembles Machu Picchu. Moray is a series of 3 huge circular amphitheatres which were also agricultural experimental stations. And Chinchero has a fine craft market, as well as quite massive megalithic constructions, and a short tunnel.

18th: Ollantaytambo: This place is simply massive, and is also where we catch the train to go to Machu Picchu. It is a very complex site, with the Temple of the Sun, agricultural terraces, the Temple of the Condor and a 400 foot tall carved stone face of the great and mysterious teacher called Viracocha.

19th: Machu Picchu: What can one say; this is the crowning jewel of the Inca; the so-called lost city. Here we will also find evidence that a much older culture once lived here, and will learn what it's real name is.

20th: Fly to Lima: This is the end of the tour for most.

Four Day Extended Tour: Nazca, Ica and Paracas

THIS TOUR IS NOW FULL

, BUT WE SHALL BE DOING ANOTHER ONE IN NOVEMBER 2012 WITH A SPECIAL GUEST

The cost of the Nazca extension is $700 US Dollars (around £400 UK Pounds)
$150

US Dollars deposit

required to reserve your place.

Single occupancy - extra $125

. Please contact us for info and for details of how to pay full amount: info@megalithomania.co.uk

20th: Bus to Nazca from Cuzco: The bus rides takes you down through the fertile Andes highlands to the flat desert plains of Nazca.

21st: Full day: Visit the pyramids of Cahuachi, which is the largest complex of pyramids in Peru in terms of area covered, the Nazca graveyard, Maria Reiche museum, and the Mirador, from which two of the Nazca figures can be seen. An optional trip via plane can be organized for an extra fee.

22nd: Travel to Ica, where the largest elongated skulls in the world are in the Ica Regional museum. We will then visit the incredible Ica Stones in the private museum in the town centre. These are said to ne hundreds of thousands of years old and depict dinosaurs with humans! Then on to Paracas for the night.

23rd: Boat trip out to see the famous Candelabra, which is a huge geoglyph, and then on to the stone islands where wildlife, including sea lions, and hundreds of thousands of birds can be seen. Then off to the Paracas Archaeology museum to see artefacts, including 16 elongated skulls. Finally, a visit to the site of where the Paracas people, those with elongated skulls. skulls, lived and were buried. Farewell Dinner.

24th: Return to Lima.





Conditions:
1) All Paypal fees and international transfer costs must be taken care of by the buyer. These will be added on final payment. We cannot take on these costs as we are keeping the prices right down to create an affordable tour.
2) Megalithomania cannot refund from 14 days before start of tour if you cancel.
3) Megalithomania will refund 50% if you cancel up until 15 days prior to the tour (this does not include deposit).
4) Megalithomania cannot refund deposits up to 60 days prior to tour.
5) Megalithomania cannot be held responsible for any injury, accident or stolen goods - please get travel insurance and relevant visas before booking this tour and have a passport with at least 3 months past the end date of the tour.
6) Full payment and passport details must be received by 20th September 2011.
7) Roommates: We are happy to try to and match our guests with a suitable roommate for those who are traveling alone. If we are unable to do this, you will be responsible to pay for the single supplement. Early registration will facilitate this process. (Note: Itinerary may be subject to change if circumstances arise beyond reasonable control.)
8) Please email for further details - info@megalithomania.co.uk