The Annual Megalithomania Grand Tour to South America
PERU, BOLIVIA & EASTER ISLAND TOUR
MEGALITHIC TECHNOLOGIES ON THE PATH OF VIRACOCHA
NOVEMBER 14th - 26th 2018 / NOV 26th - 30th 2018
There will only be 25 spaces for this exclusive tour! Currently 23 spaces are still available.
CLICK HERE FOR MORE DETAILS & TO BOOK YOUR PLACE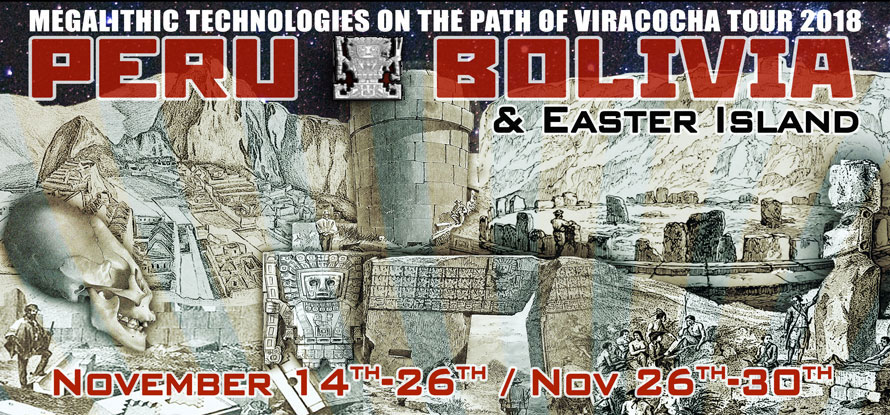 Ancient Peru, Nazca and Easter Island




November 2012 - TOUR NOW FULL

JOIN US IN 2013 INSTEAD HERE
Join ROBERT SCHOCH, BRIEN FOERSTER & HUGH NEWMAN on a once in a lifetime expedition around the megalithic temples of Peru and Bolivia, with add-ons to NAZCA and EASTER ISLAND
Place your deposit securley via Paypal or Debit/Credit Card. After it has been recieved you will recieve a confirmation email, be added to the group mailing list and sent instructions on how to pay the remaining fee.

Nazca Add-On


$795

US / £500 UK

Deposit: $250

Peru/Bolivia Tour


$2899

US/£1845 UK

Deposit: $450

Easter Island Tour
$2399 US / £1525 UK
Deposit: $400
NOTE: ROBERT SCHOCH will join us in BOLIVIA for the last four full days of the main PERU/BOLIVIA tour, where we will go to Tiwanaku, Puma Punku, Sillustani, Lake Titicaca and more (see details below)


NOTE:

There is also a 4-day extension to visit the famous Nazca Lines and strange animal effigies, as well as the Paracas Trident and other ancient sites along the west coast of Peru. This will take place BEFORE the main Peru/Bolivia Tour with Brien & Hugh hosting the tour.
NOTE: The EASTER ISLAND extension is AFTER the main Peru/Bolivia tour and INCLUDES international flight from/to Lima.
ALL TOURS INCLUDE: Guides, bus rides, pick up a

t the airport, access to all the listed sites, train rides, 3 to 5 star hotels, ride to the airport, breakfasts, some dinners, tickets to archaeological sites,

time at sites to meditate and have personal time, dowsing classes, evening lectures. Note:

Lunch not included, but vegetarian options will be available.
US citizens will have to pa a $120 visa charge to enter Bolivia from Peru (not included in price)
Four Day Add-on: Nazca, Ica and Paracas


This tour is now full

Enquire here: info@megalithomania.co.uk

(This starts BEFORE the main Peru/Bolivia Tour) The cost of the Nazca add-on is $795 US Dollars (around £500 UK Pounds). Single occupancy - extra $200. Please pay the deposit to reserve your place & we'll contact you with details of how to pay full amount.

6th: Arrive in Lima. Go to ATM/money exchange. Stay in Hotel near airport.

7th: Drive to Nazca, with a stop to see the thousands of 'serpent holes' at Palpa. Introductory lecture with Brien and Hugh.

8th: Full day: Visit the pyramids of Cahuachi, which is the largest complex of pyramids in Peru in terms of area covered, the Nazca graveyard, Maria Reiche museum, and the Mirador, from which two of the Nazca figures can be seen. Included is a trip via plane over the Nazca lines and effigies. Evening Lecture about the 'long-heads' with Brien.

9th: Travel to Ica, where the largest elongated skulls in the world are in the Ica Regional museum. We will then visit the incredible Ica Stones in the private museum in the town centre. These are said to be hundreds of thousands of years old and depict dinosaurs with humans! Then on to Paracas for the night.

10th: Boat trip out to see the famous Candelabra, which is a huge geoglyph, and then on to the stone islands where wildlife, including sea lions, and hundreds of thousands of birds can be seen. Then off to the Paracas Archaeology museum to see artefacts, including 16 elongated skulls. Finally, a visit to the site of where the Paracas people, those with elongated skulls, lived and were buried. Return to Lima.


Main Tour: Ancient Peru & Bolivia


This tour is now full

The cost of the main Peru/Bolivia tour is $2899 US Dollars (around £1845 UK Pounds). Single occupancy - extra $300.

Nov 10th: Arrive in Lima. Get cash out from ATM at airport or exchange money at airport. Taxi pick-up from airport to hotel in Miraflores.

11th: - Late breakfast, then visit to the Lima Gold largo museum and the Archaeology Museum, Afternoon tea at the South American Explorers club HQ. We then visit beautiful mud-brick 'Pocheakta' pyramid. Complimentary Dinner at restaurant at Pyramid site, with slide show and introduction to the tour with Brien and Hugh. Back to hotel in Miraflores.

12th - Fly to Cuzco. Check-in to hotel. Get optional lunch on the main square, then visit the Coricancha complex and museum and '12 sided stone' with limited activity and walking, as we'll be adjusting to the altitude difference.

13th - Tambo Machay, Puca Puccara, Amaru Machay, Temple Of The Monkeys and Sachsayhuaman: These are serries of sites up in the hills of Cuzco and have incredible water features (Tambo Machay) and megalithic construction that clearly predate Inca times. Evening lecture by Brien Foerster about the pre-Incan culture of Peru.

14th - One hour bus to Chinchero that has a fine craft market, as well as massive megalithic and polygonal constructions, and a short ancient tunnel. After lunch, we go to the enigmatic Ollantaytambo. This place is simply huge, and is also where we catch the train to go to Machu Picchu the next morning. It is a very complex site, with the Temple of the Sun, agricultural terraces, water features, the Temple of the Condor and a 400 foot tall carved stone face of the great and mysterious teacher called Viracocha.

15th - Machu Picchu: What can one say; this is the crowning jewel of the Inca; the so-called lost city. Here we will also find evidence that a much older culture once lived here, and will learn what it's real name is. Back to hotel in Ollantaytambo. Lecture by Hugh Newman about the geodetic connections of Peru and Egypt and earth energies discoveries on the Island of the Sun.

16th - Eight hour coach trip to Puno including a stop off for lunch and a visit to the incredible Temple of Viracocha. Discussion and videos on the coach journey.

17th - ROBERT SCHOCH will join us today: Amaru Muru (Portal) and Sillustani: Amaru Muru is called a stargate by some people. It has been made famous by the Peruvian Shaman Jorge Luis Delgado, and also Jerry Wills. There is also a tunnel behind it said to go to Cuzco, a distance of more than 400 km. Sillustani is famous for it's round towers called Chullpas, some of which are thousands of years older than the Inca and are polygonal design. There is also remnants of a possible stone circle! We will also visit the 'Temple of Fertility' next to Lake Titicaca. Evening lecture by Robert Schoch.

18th - UPDATED: Island Of The Sun & Moon at Lake Titicaca:(Lunch included). Puno to Copacabana, Bolivia. Hydrofoil cruise to Chincana Ruins, the Pre-Inca temple located at 300 meters SW of the sacred rock -where the Rainbow Serpent energy line meets the Plumed Serpent line, at the north side of Isla del Sol. It also offers impressive views of Lake Titicaca. The Chincana contains trapezoidal doors and niches which were adapted during the Inca period. These ruins were believed to be a support facility for the Island's Shrine, housing the maiden who took care of the Shrine. Hydrofoil cruise to Moon Island, visit the Sun Virgins Temple "Iñak Uyu". Continue to Huatajata. On arrival, visit the "Andean Roots Eco Village": The Altiplano Museum; Handicrafts village, the Mud Igloos and the mortuary towers of the Urus Chipayas. Meet the Limachi family, builders of the RA II and Tigris for epic expeditions across the Atlantic Ocean. plus meet the vicuñas, llamas, alpacas and the mythical Suri. Overland transfer to La Paz. Bolivia to stay in luxurious 5-star hotel.

19th - Tiwanaku and Puma Punku: Both Tiwanaku and Puma Punku are located at the same place. Tiwanaku is most probably the home of the Inca, and Puma Punku is much older and more mysterious. It is at the latter that we see evidence of ancient machining of stone. We will also visit the on-site museum.

20th - La Paz Museums. See the incredible Fuenta Magna Bowl with Sumerian inscriptions that suggest a link between the middle East and South America thousands of years ago. We then fly to Lima in the afternoon. (then fly home or to Easter Island for the add-on)

Five Day Add-on: Rapa Nui (Easter Island)


This tour is now full

Enquire here: info@megalithomania.co.uk
The cost of the Easter Island tour is $2399 US Dollars (around £1525 UK Pounds). Single occupancy - extra $300. Includes international flight from/to Lima.


NEW ITINERARY:
21st – We arrive around 6am on an overnight flight from Lima, so we will have plenty of time to rest. In the afternoon, visit the Ahu Tahai complex, one of the most spectacular ahu complexes on the island. Visit the Rano Kau Caldera and Orongo Village to see unusual and low-lying ancient stone houses as well as beautiful and well-preserved petroglyphs, including those depicting shapes associated with the traditional Birdman Competitions. Both the stone structures at Orongo and the petroglyphs tie directly in to Robert Schoch's new research as presented in his latest book, Forgotten Civilization: The Role of Solar Outbursts in Our Past and Future. Introductory dinner and lecture.

22rd - Tour the Rano Raraku Quarry up close, where the moai (large stone heads and torsos) made from volcanic tufts were carved. More than 200 moai are still here in various states of completion, including one estimated to weigh approximately 250 tons. Lunch. Visit the Ahu Tongariki complex. Dinner and evening lecture by Dr. Schoch.

23rd – Visit Anakena Beach where the unusual Ahu Nau Nau is located. Almost all the moai here retain their mysterious headpieces. Very nearby is Te Pito Te Henua, "the navel of the world", which we will visit. Anakena Beach contains beautiful white sand, and here we can swim and explore more moai. Evening lecture by Brien Foerster about 'The Red-Haired Voyagers of the Pacific'.

24th –Visit the North Coast, including Ahu Maitake Te Moai, which oddly contains an older moai reused in the ahu wall. Then visit the area of Vinapu containing possibly the oldest and most incredible stonework on the island, stonework that has been compared to that found in South America. In the late afternoon, visit the island's museum, Museo Antropológico Padre Sebastián Englert, where many beautiful and mysterious artifacts are located, including the enigmatic "female" moai that some people feel looks alien.

25th - Free day to explore more, shop, and/or relax. If anyone wants to visit additional archaeological sites, the organizers will be available. Includes a farewell lunch. Fly to Lima 6.20pm flight- arrive Lima 11.10pm. For those who are staying the night, we'll book into a local hotel near the airport or connect with flights home. The tour ends!

--------------------------------------------------------------------------------------

Introducing the three Megalithomaniacs who will be hosting the forthcoming tour in November....

ROBERT SCHOCH PHD

Dr. Robert M. Schoch, a full-time faculty member at the College of General Studies at Boston University since 1984, earned his PhD. (1983) in Geology and Geophysics at Yale University. He also holds an M.S. and M.Phil. in Geology and Geophysics from Yale, as well as degrees in Anthropology (B.A.) and Geology (B.S.) from George Washington University. Additionally, Dr. Schoch is a member of the Advisory Board, Ananda College of Living Wisdom.

Dr. Schoch has been quoted extensively in the media for his pioneering research recasting the date of the Great Sphinx of Egypt using geological analyses, as well as for his work on ancient cultures and monuments in such diverse countries as Egypt, Turkey, Bosnia, Romania, Wales, Scotland, Mexico, Peru, Chile (Easter Island), and Japan. Dr. Schoch's research has been instrumental in spurring renewed attention to the interrelationships between geological and astronomical phenomena, natural catastrophes, and the early history of civilization. Dr. Schoch has appeared on many radio and television shows and is featured in the Emmy-winning documentary The Mystery of the Sphinx, which first aired on NBC in 1993 (note: the original documentary has since been re-edited and includes supplemental/extraneous material). He is a featured speaker at national and international conferences.

Dr. Schoch is the author or coauthor of both technical and popular books, including the trilogy with R. A. McNally: Voices of the Rocks: A Scientist Looks at Catastrophes and Ancient Civilizations (1999), Voyages of the Pyramid Builders: The True Origins of the Pyramids from Lost Egypt to Ancient America (2003), and Pyramid Quest: Secrets of the Great Pyramid and the Dawn of Civilization (2005). A recent book publication by Dr. Schoch is The Parapsychology Revolution: A Concise Anthology of Paranormal and Psychical Research (compilation, and a hundred pages of commentary, by Robert M. Schoch and Logan Yonavjak; 2008). Dr. Schoch's works have been translated into numerous languages and distributed around the world. He is also the coauthor of an environmental science textbook used in universities across the United States, and has contributed to numerous magazines, journals, and reviews on geology, parapsychology, and ancient civilizations. Dr. Schoch's latest book, Forgotten Civilization: The Role of Solar Outbursts in Our Past and Future, is due to be published by Inner Traditions, Summer 2012. Dr. Schoch's website is www.robertschoch.com

The tour is jointly organised by Megalithomania and Hidden Inca Tours. The above itinerary is subject to possible changes (for the better!)

Nazca Spider Effigy

Boarding the Plane at Nazca

The 'Candlestick' of the Andes

Ollantaytambo. Irene and Brien, your hosts.

Megalithomaniacs at Sacsayhuamán, Cuzco

Isla del Sol, Lakre Titicaca

Pumu Punku, Bolivia

Fuente Magna Bowl, Bolivia

The Tour is co-hosted by Brien Foerster and Hugh Newman...

Brien Foerster has published several book in ancient Peruvian culture and collaboared with David Hatcher Childress on "The Enigma of the Elongated Skulls". He is a regular guest on Ancient Aliens (History Channel) and is one of the worlds leading researchers on the elonghated skulls and the pre-history of Peru
www.brienfoerster.com

Hugh Newman has been a megalithomaniac for many years, travelling the world trying to work out what the ancients were up to. He organises the Megalithomania conferences in the UK, US and South Africa and has been travelling to Peru since 2007. His book "Earth Grids: The Secret Patterns of Gaia's Sacred Sites" covers the connections between sites in South America and the rest of the world. He has appeared on Ancient Aliens in four episodes.
www.megalithomania.co.uk/hughnewman.html

Irene Mendoza (on the left!) is our translator and Brien's wife. She was born and raised in Peru, and is a Spanish and English teacher and a language coach. A brilliant photographer, she is in charge of coordinating all the 'Hidden Inca' tours, and the one who opens any doors, be they governmental or local, which are closed off to outsiders. She, along with the above team members, make this a truly heart felt Peruvian operation.



Conditions:
1) All Paypal fees and international transfer costs must be taken care of by the buyer. These will be added on final payment. We cannot take on these costs as we are keeping the prices right down to create an affordable tour.
2) Megalithomania cannot refund from 14 days before start of tour if you cancel.
3) Megalithomania will refund 50% if you cancel up until 15 days prior to the tour (this does not include deposit).
4) Megalithomania cannot refund deposits up to 60 days prior to tour. Before that we can refund only 50% deposit if you cancel.
5) Megalithomania cannot be held responsible for any injury, accident or stolen goods - please get travel insurance and relevant visas before booking this tour and have a passport with at least 3 months past the end date of the tour.
6) Full payment and passport details must be received by 1st October 2012
7) Roommates: We are happy to try to and match our guests with a suitable roommate for those who are traveling alone. If we are unable to do this, you will be responsible to pay for the single supplement. Early registration will facilitate this process. (Note: Itinerary may be subject to change if circumstances arise beyond reasonable control.)
8) Please email for further details - info@megalithomania.co.uk